The father of Salahaddin, the 12-year-old boy who died in the recent bombing of Shingal district, Ninewa province by Turkey, calls for his son's blood to be the basis for the restorations of peace, security and stability to the war-torn Shingal (Sinjar).
Salahaddin was the first in his class every year, a good reader, and a playful child loved by his teachers.
On June 15, bob-laden drones of Turkey bombed the headquarters of the Shingal Autonomous Council in the center of Sinune subdistrict twice, killing four people, including Salahaddin Nasir Khidir, 12, nicknamed Salah.
Salah and his 27-year-old brother, Ali, owned a library in the center of Sinuny district, selling books, stationery and computer equipment.
"As usual, Ali and Salah went to the library themselves. One of my daughters had an exam. I took her to school and went to work," said Nasser Khidir, Salah's father, an engineer at the district water office.
The family's home is in Ashti village, about two kilometers from the district.
"Around 11 am, a loud noise came, then the screams of people and children filled the district... They told me that the headquarters of the Shingal Autonomous Council had been bombed."
Salah and Ali's shop, which contained about 1,000 titles of books, five photocopiers and a number of computers, is only 100 meters far from the Shingal Autonomous Council.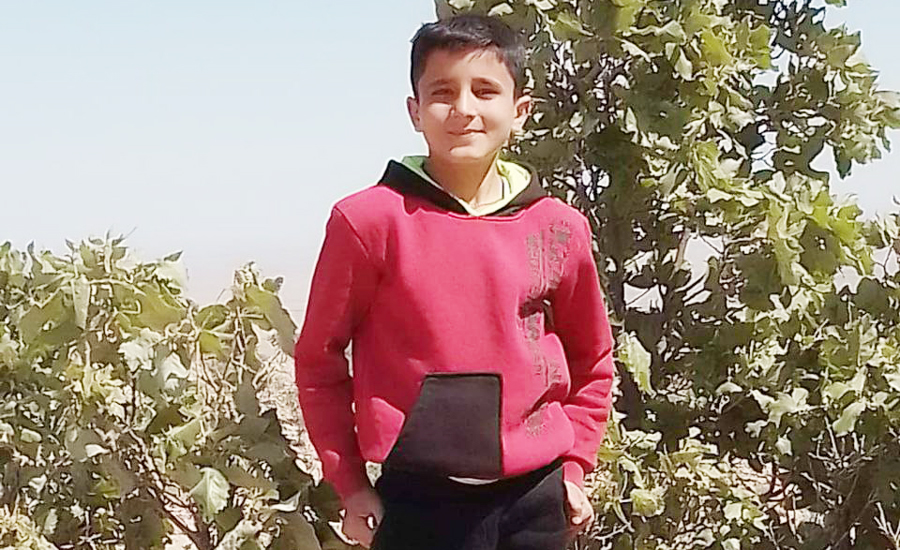 That day, their sister Farah went to see her brothers in the library after her exams.
According to their father, Farah and Ali were near the door of the shop and Salah was at the back of the store.
"With the bombing, the front wall of the shop fell on Farah and Ali. People gathered and pulled them out. Then they shouted to save our brother Salah," Salah's father Nasser Khidir said.
"Salah has not burnt, he was choked when we rescued him. The books turned to dust and we lost Salah."
Salah has not burnt; he was choked when we rescued him
Three members of the Shingal Resistance Units (YBŞ), a group under the autonomous council, were killed and six others wounded in the bombing.
The council was formed by the communities of Shingal district to administer the entire region and is considered close to the Kurdistan Workers' Party (PKK), which is fighting Turkey and holding territories in Iraq, but is not recognized by the Iraqi government and the Kurdistan Regional Government.
Although some members of YBŞ work within and paid by pro-Iran Popular Mobilization Forces PMF known as Al-Hashid Al-Shaabi, Turkey classified them as PKK-affiliated forces.
Salahh, whose family has returned to their village only a year ago after years of life in a camp for internally displaced persons IDP where tens of thousands of Eizids live in Duhok Northern Province, had just passed to grade four at the top of his class alike the other grades.
"He was such a smart, charming and polite boy that I don't know how to describe him," said Hadi Haji, principal of Salah's Sinuny primary school.
"My sadness for Salah cannot be described. He was bright in all subjects, especially mathematics... We ask everyone to put a limit to Turkey. It cannot occasionally bombard our region under the excuse of targeting of armed forces," Haji said.
Video: Turkish aircraft bombed the headquarters of the Shingal Autonomous Council.
The Iraqi Foreign Ministry on Friday condemned the bombing of Sinny district, without naming Turkey, saying it was aimed at the security and peace of Iraq and its people.
"We will take action after the investigation is completed," the press release said.
Earlier, the United Nations International Children's Emergency Fund UNICEF condemned the attack and murder of children in armed disputes.
"UNICEF is shocked at the killing of a 12-year-old boy in an attack in Sinjar area in Ninewa Governorate, calls on all parties to protect children from violence," said Mads Oyen, UNICEF Representative in Iraq.
"UNICEF condemns all acts of violence against children and joins the family in mourning the killing of their child. Being a victim of, witnessing, or fearing violence should never be part of any child's experience."
The UNICEF called on all parties to protect children.
"UNICEF calls on all parties to fulfill their obligation, under international law, to protect children at all times and without delay. All children in Iraq deserve to live their lives without the constant threat of violence."
Salah's father, who has four sons and three daughters, said Salah was fond of reading books and had good ties with his teachers.
"It is very obvious. The wound of Salah's loss is very deep. I see him all the time in front of my eyes. Let's peace be restored in Shingal. These people deserve to rest. Enough of the destruction."