The public petrol stations of Kirkuk are still crowded due to the crisis that has been going on for nearly a month, following at least five protests by the motorists and despite state measures after meetings of the relevant parties of the local administration of the northern, oil-rich province.
Despite the latest measures by the state-run oil products distribution company to provide adequate gasoline, Kirkuk motorists still wait at least two hours in a long queue to receive government gasoline, while the temperature in Kirkuk exceeds 42 degrees Celsius.
Bashdar Jihad, a driver in Kirkuk, said they are given only 50 liters of government gasoline a week, which is not enough for them, "because the air-conditioner (AC) is constantly working due to the hot weather."
The latest protest was held on Thursday, June 23, in which drivers demanded government gasoline to be distributed every five days instead of a week or eight days.
Each private vehicle in Kirkuk province, according to the government coupon, every eight days are entitled to get only 50 liters of gasoline at a price of 450 Iraqi dinars IQD (USD0.3) per liter, while taxis will be given 120 liters and trucks will be given 80 liters.
Kirkuk province (with an estimated population of more than 1.7 million) is supplied with 1.5 million liters of government gasoline daily.
Kirkuk, June 23, 2022: Motorists protest gasoline shortage in blazing summer
According to drivers, the weekly portion of gasoline is not enough for eight days due to using AC in summer, so most go back to the petrol stations and want to get gasoline again anyway, creating congestion.
Acting Kirkuk Governor Rakan Saeed Jabbari told KirkukNow in an exclusive interview that one of the solutions to the gasoline crisis was to increase the gasoline quota by 30% compared to the previous month.
The governor's decision to deliver gasoline to drivers every five days instead of every eight days was implemented for only a few days.
The Kirkuk branch of the oil products distribution said on its Telegram channel on Wednesday night that the work on the gasoline distribution will continue every five days, but the next day, they said they had been warned by the General Directorate in Baghdad to stick to one portion every eight days.
Omar Hamasaleh, director of the Kirkuk branch of the distribution of oil products, told KirkukNow that according to several new measures, the electronic system will be used to get gasoline coupons. According to other measures, he explained, the distribution of gasoline to drivers twice a week.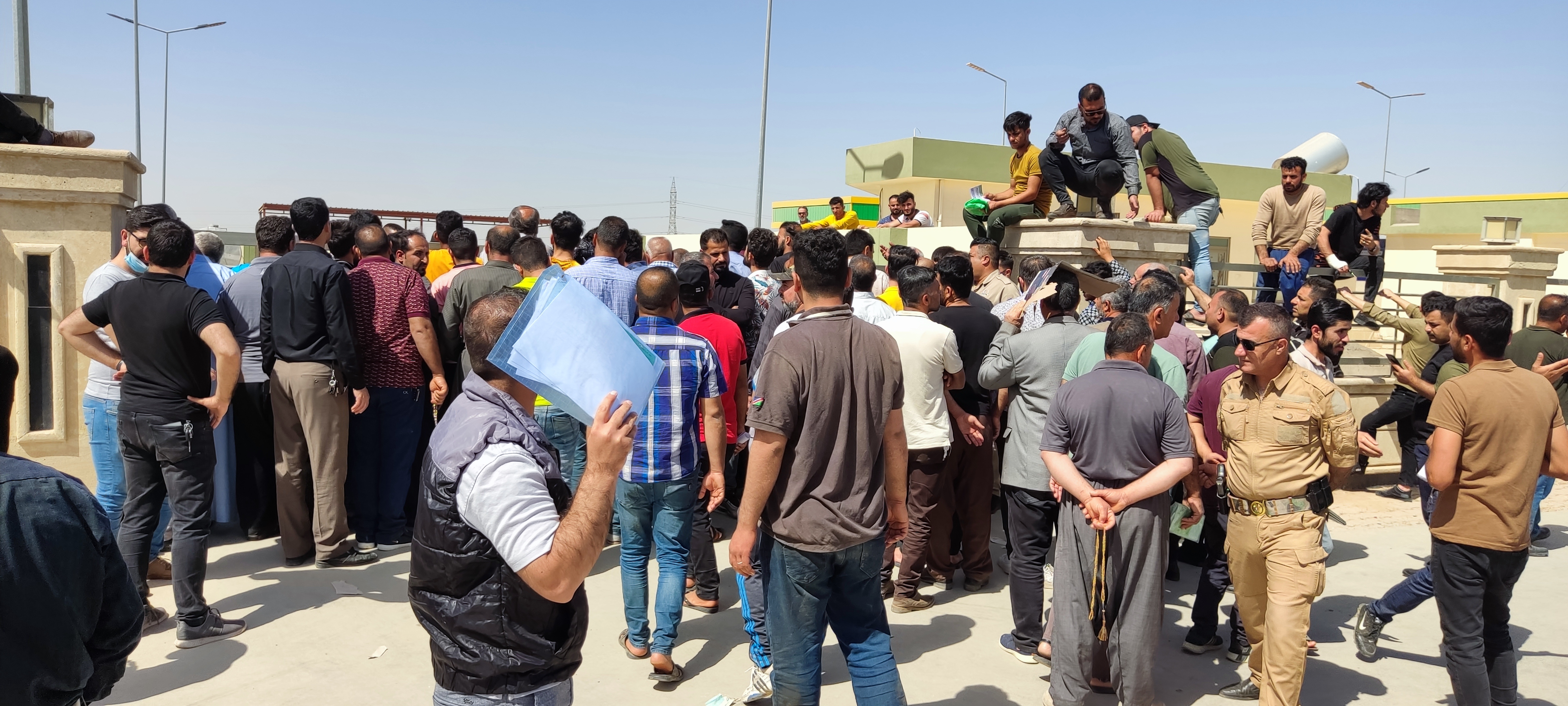 In Kirkuk, three petrol stations have been allocated to sell government gasoline at 1,000 dinars per liter to drivers who do not have coupons or tourists or traveling through Kirkuk, but these gas stations have been closed for a long time.
Gasoline coupons are issued according to several guidelines and conditions; These include the motorist should be the real owner of the vehicle or holding a confirmed power of attorney POA, with a photograph of the vehicle, with clearly visible license plates and bonnet open, and the driver and vehicle present in front of a station.
"Previously, women were helped to get gasoline earlier without stopping, but according to the procedures of the oil products distribution company, each female driver must have a car in her name before they are given gasoline," Shahla Ali told KirkukNow she cannot spend much of the day on the gas station because she has duties outside and at home.
The High Security Committee of Kirkuk province received the approval of the Iraqi Oil Ministry in mid-June to implement changes in the supply of gasoline, which will allow private vehicle drivers to receive 50 liters of gasoline every five days.
In Kirkuk, premium gasoline is no longer distributed in order to eliminate congestion and instead government gasoline is distributed according to government guidelines and procedures.
"The government is not responsible for the whole problem, the citizens are the cause and despite many warnings, some do not bother to receive gasoline coupons thus forced to buy commercial gasoline (1200 dinars per liter) and deprived of government gasoline," a well-informed source anonymously told KirkukNow.
There are 27 government gas stations and 68 private gas stations in Kirkuk that distribute government gasoline at 450 dinars according to coupons, three of which distribute government gasoline at the commercial price of 1,000 dinars per liter without coupons.
Gas stations in the city center are open until 12 pm, three gas stations are open 24 hours and gasoline will be distributed in the districts until 8 pm.
Gaylan Qadir, a member of the Iraqi parliament from Kirkuk, told KirkukNow, "this is not the first time Kirkuk faces gasoline shortage. They have stopped distributing premimum gas, the portions is not enough, beside the global crisis."
"We as MPs along with the local administration will try to find a radical solution for the gas shortage."
The acting governor of Kirkuk said they have tried to rely on a realistic solution to fight the gasoline crisis. He believes that one of the reasons behind the gas shortage is that gas cost in Kirkuk compared to adjacent Kurdistan region is 60% cheaper.
The price of a liter of normal gasoline (octane below 90%) in the Kurdistan Region of Iraq (KRG) is 1200 dinars.