Essam Saleh Khedr, 48, starts his day at 3:00 am. From his home he heads straight to his fruit and vegetable stall in Al-Shoura town market. There he spends the next three hours checking bags of tomatoes, carrots, cucumbers, aubergines, and oranges, arranging them on the rack, and coordinating deliveries.
In a few minutes, his day gets busier as early risers start to show up to pick up their fresh produce. As the clock strikes 6:30 am, he heads back home to prepare for his day job while his son takes over the shop. From business owner, he turns into a police officer. For eight to nine hours, he writes and files reports, responds to people's calls and concerns, and patrols his assigned areas.
He comes back to his shop at 7:00 pm and spends an hour dealing with night shoppers, doing inventories, calling suppliers, and scheduling deliveries for the following day. Then he closes the shop, goes home, and ends his day with a hearty meal with his wife and nine children.
Essam's day has been this way for nine years since he opened his shop in 2013. When he is off duty, he spends his entire day in the shop. Although his son manages the shop well, Essam remains hands on, making sure every vegetable and fruit is delivered on time and each customer is satisfied with their purchase.
I always tell my children and the young people in my village, Pursue your dreams and work hard.
The vegetable/fruit shop was his son's idea. For months, Essam took out some portions of his salary and saved it for the shop's starting capital. The first six months were rough and bumpy. From finding suppliers to setting up the shop – it was challenging, but it was a challenge Essam and his son were ecstatic to conquer together.
Today Essam has two vegetable/fruit shops. He also has three shop helpers whom he pays with free fresh produce every day and 100,000 Iraqi dinars (US$69) every month. But Essam remains simple and humble. He keeps the same routine, as well as the quiet but charming demeanor.
Essam's shop provides additional income for his family. It also helps boost Al-Shoura's economy and bring some life back to the town centre.
Al-Shoura market was left in ruins after the conflict, with about 30 shops completely destroyed.
Through UNDP's Funding Facility for Stabilization (FFS), these shops have been rebuilt and strategically relocated to the district's main entry point, serving communities living in Al-Shoura's 67 villages and even nearby towns.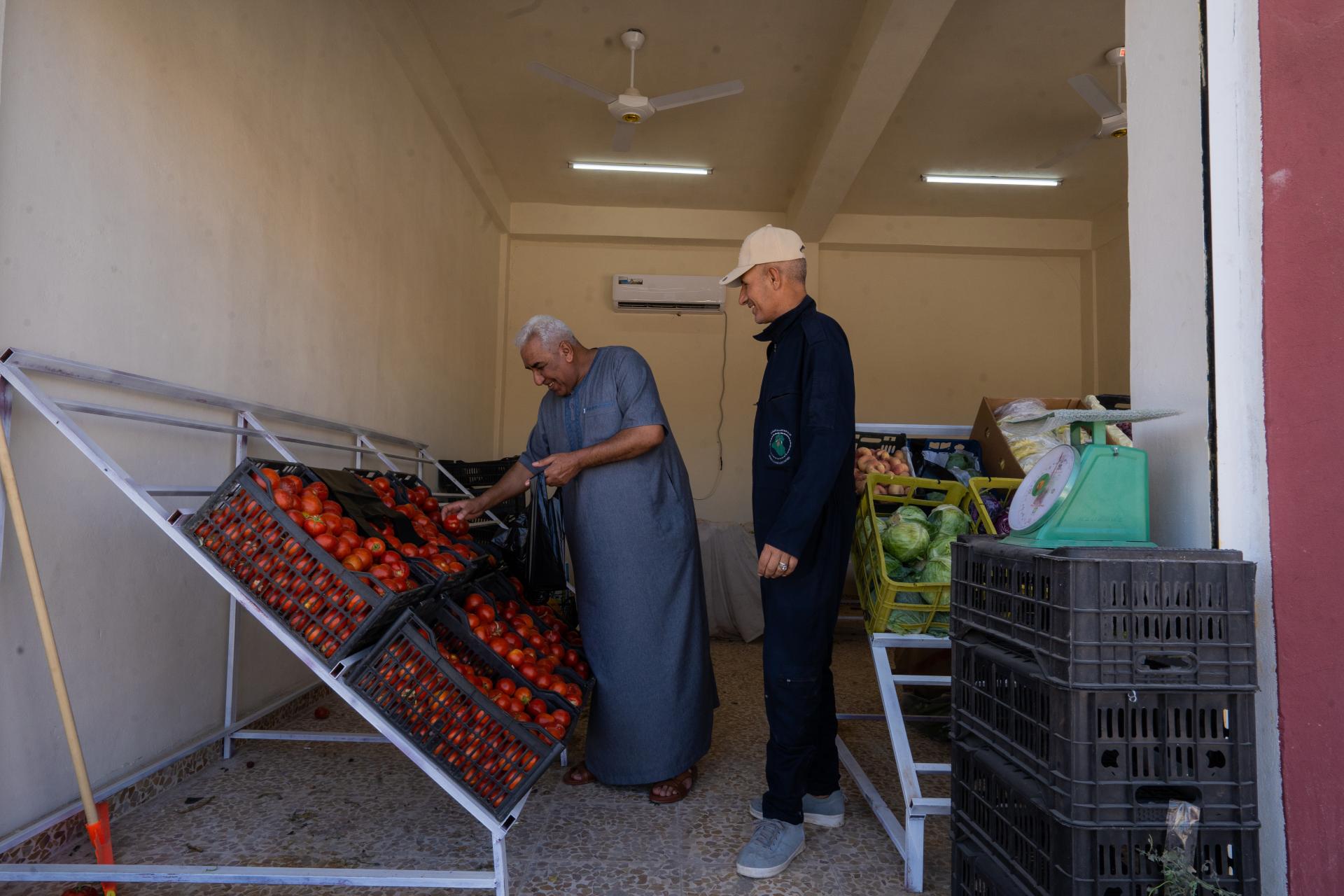 Mayor Mohammed Al-Jobouri says the recently opened commercial complex is one of Al-Shoura's important assets. Its clean and modern aesthetic entices people to shop, bringing in money to the district and providing livelihoods and jobs to its citizens.
"The stores in the commercial complex offer a variety of goods. There are also restaurants. People love shopping in Al-Shoura because the prices are lower, and they can pay in installments. In return, we try to keep the business owners happy through reasonable contracts and rents," he adds.
Economic activity in Al-Shoura has increased nearly 50% because of these shops
As of January 2023, UNDP FFS has rehabilitated 1,028 shops in Iraq's four liberated governorates, benefitting 290,000 people. These projects were supported by the Governments of Australia, Canada, Denmark, Germany, Iraq, Italy, New Zealand, Sweden, and United States Agency for International Development.
In Ninewah alone where Al-Shoura and Essam's shops are located, 819 shops have reopened. The construction of Al-Shoura's commercial complex which has 30 shops was funded by the Government of Canada.