Street dogs have attacked 23 people in different parts of Shingal district of Nineveh Province in the past three weeks, pushing the local administration to launch a campaign to eliminate them.
According to KirkukNow and statistics obtained from Shingal officials; Since early April 2023, about 23 people have been treated for stray dog attacks in health centers.
"Often our children cannot go to school or anywhere far from home because of stray dogs," said Isa Ali, a resident of Shingal.
On April 13, a 10-year-old boy from Shingal died after being attacked by a dog after receiving medical treatment in hospitals of Mosul and Duhok Northern Province for more than a month. KirkukNow could not get more details about the injury of the child due to dog attack.
The phenomenon of dogs seen on the streets has turned popular following Covid 19 pandemic early 2020 which led to curfew, leaving no choice for the dogs excepting heading to towns and center of cities in search for food.
According to an unofficial statistic of the Shingal district administration, there are more than a thousand stray dogs in the district center and its affiliated sub-districts, scattered in the streets and alleys.
Over the past two years, at least 10 people have sustained injuries from being attacked by stray dogs, as well as damage to poultry.
In March 2022, at least 200 stray dogs were poisoned and killed in Shingal district. In 2021, 40 dogs were killed in Sunni district alone, compared to 50 dogs in 2020.
Our children often cannot go to school because of stray dogs
"We have launched a campaign to eliminate stray dogs in the district," Khalaf Haider, director of the veterinary department in the Sinuny sub-district of Shingal, said.
On April 10, a government committee was formed in Sinuny to target stray dogs.
"This campaign covers the entire district and this decision was taken at the request of the people," Haider said.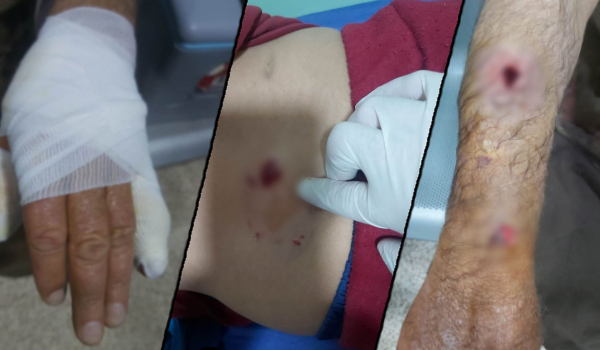 There are a number of diseases that can be transmitted to humans by dogs, including water cysts and rabies, and in some cases they are fatal.
"Health services are at a very low level. Most of the health centers in the areas do not have the necessary medicine for someone who has been attacked by a stray dog," said a resident of Shingal.
According to a follow-up by KirkukNow, only one health center in the entire district of Shingal has a vaccine against stray dogs, which is in Khanasura community in northern Shingal.
Barakat Hajo, director of the Khanasur community health center, affirmed that one day, seven cases of stray dog attacks have been registered in the center and vaccinated, but only one of them was in critical health condition and was taken to Tala'afar hospital.
He explained that in addition to having a vaccine for people attacked by stray dogs, they have also formed a five-member team to treat and rescue the injured in similar incidents.
Seven cases of attacks by stray dogs have been recorded in our center during one day and night
According to the 2013 Animal Health Law, a committee must be formed in each Iraqi province with the assistance of security forces to eradicate stray dogs.
The issue is not a threat for people of Shingal only, as similar campaigns were launched in other provinces. Some other local administrations have developed shelters for street dogs.
Kirkuk policemen has slaughtered about 550 street dogs in three weeks of June 2021, figures by Kirkuk mayor office show. Over 3,000 dogs were shot dead by bullets in 2017 and 2018 campaigns in Kirkuk.
The campaign trigged wide protests by advocates of animal rights yet Kirkuk administration says it was forced to launch the campaign following reports of death cases and serious injuries by the dogs against civilians, mainly women and children.