The dispute between Cardinal Louis Raphael Sako, the head of Iraq's Chaldean Church, and Rayan Chaldean, the leader of the Babylon Movement, is becoming increasingly tense, surging from corruption charges to demonstrations and taking each other to court.
Demonstration with candles and olive branches
Hundreds of Christians demonstrated in central Baghdad's Tahrir Square on Friday evening, May 12, 2023, holding candles, olive branches and the Iraqi flag.
"This protest is against Rayan Kildani, after he insulted Cardinal Sako as the most dominant Christian figure in Iraq. We reject this behavior, we will not allow any insult to this religious figure from anyone," Wijdan Nuri, one of the demonstrators said.
The demonstrators chanted religious slogans and prayed for Christian peace and unity, while rejecting insults to the church and its leader.
"The insult and empty propaganda against Cardinal Sako is not only a private case but for the whole church, because the cardinal represents the spirit of the church and is not an ordinary person," said Nazir Diko, priest of Mariusf Chaldean Church in Baghdad.
He also stressed that there is "great" sympathy from the entire Iraqi community and the world for the cardinal because of his "national positions, which was reflected during the 2021 trip of Pope Francis to Iraq."
Louis Sako was born in 1948 in Zakho, Duhok province. He was ordained a priest in 1974 in the Chaldean Episcopal Church in Mosul. He was elected bishop of the Kirkuk Episcopal Church in 2002. He was appointed Patriarch of the Chaldean Church in 2013 and finally in 2018 he has become Cardinal.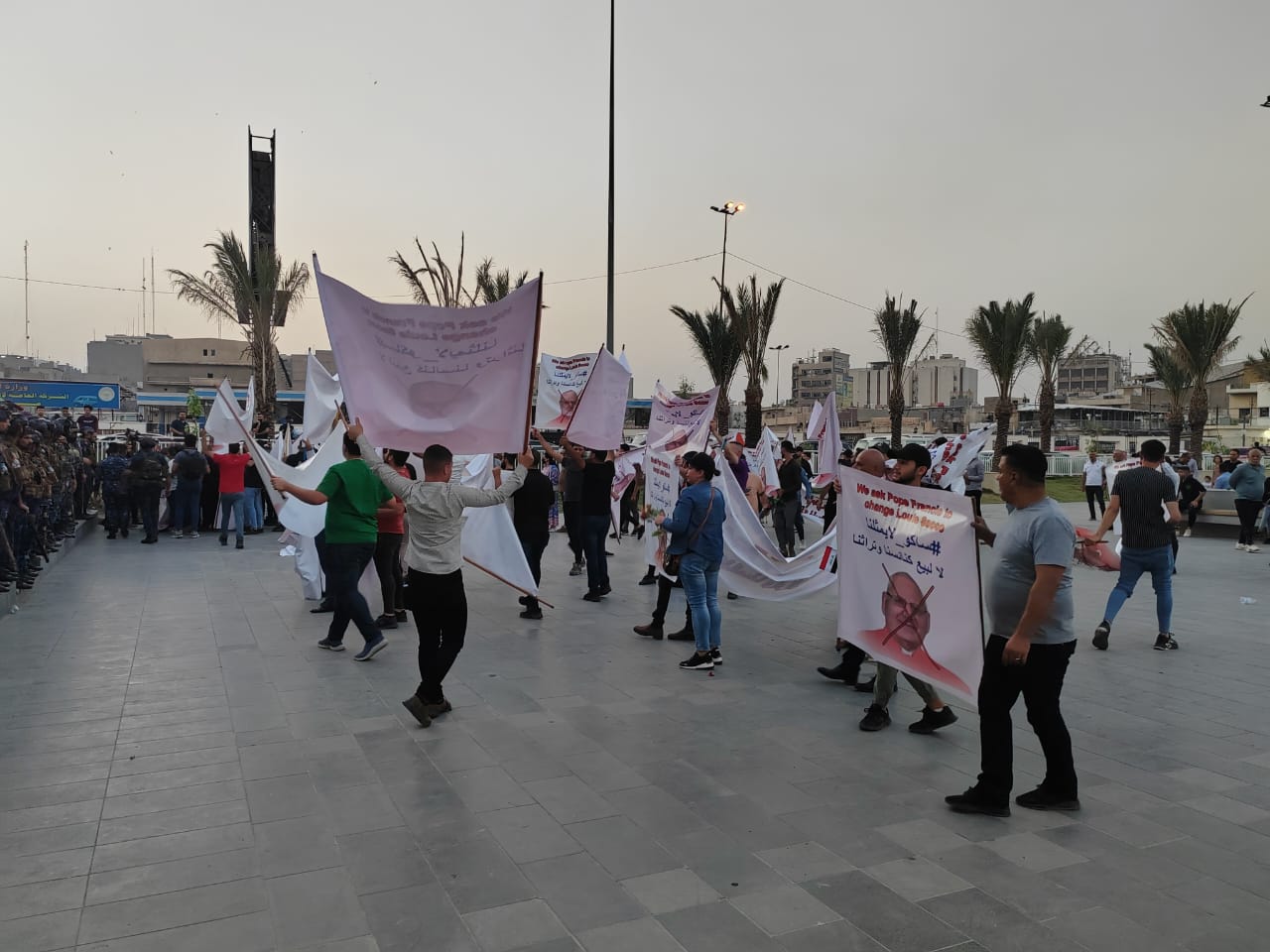 Supporters of Kildani storm Tahrir Square
During the demonstration, dozens of people tried to enter Tahrir Square in Baghdad chanting slogans against Cardinal Sako, but were prevented by security forces.
"Down Sako", "No, no Sako" and "We will not allow anyone to sell Christian property," shouted one of the demonstrators as he entered Tahrir Square, carrying a banner with slogans against the cardinal.
Meanwhile, demonstrators, including clerics and nuns, insisted on staying in their places and chanted slogans of solidarity with Louis Sako under the Statue of Liberty at the square, while reciting religious hymns.
In response, other pro-Kildani demonstrators chanted slogans against Sako.
The scene continued until nightfall and everyone retreated from Tahrir Square.
Kildani was born in 1983 in al-Qush, Nineveh province, and later moved to Baghdad. In 2014 after the capture of Nineveh by the Islamic State of Iraq and the Levant (ISIL), he formed Babylonyan Regiment or Christian Mobilization Forces as part of pro-Iran paramilitary of Popular Mobilization Forces PMF known as Hashid Shabi.
He is the leader of a political movement called Babylyoun (Babylonyans), which won four of the five quota seats for Christian in the 2021 parliamentary elections.
The U.S. Treasury Department in 2019 imposed sanctions on two Iraqi militia leaders and two former Iraqi provincial governors it accused of human rights abuses and corruption, including Rayan Kildani, the controversial leader of the 50th Brigade militia, an Iraqi Christian militia under the PMF.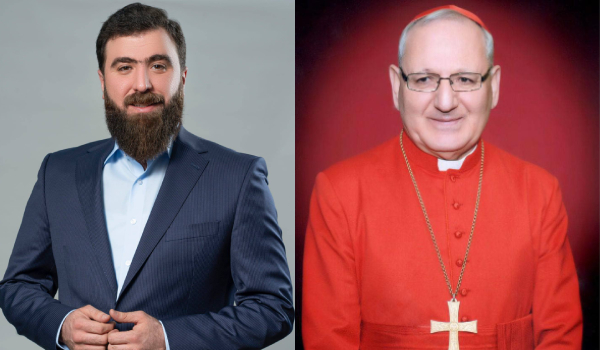 Threats of going to court
Louis Sako and Ryan Chaldean are both threatening to take each other to court.
"We have evidence from the Babylonian fighters and the ministry that proves corruption. They must stop lying and harassing the Christian community. The Patriarch will be obliged to hand over the evidence to the Iraqi and international judiciary," the Chaldean Church said in a statement.
In response, the movement led by Kildani denied the charges.
"We are ready to go before any court to defend ourselves against any charges against us, anywhere in Iraq, but not through the media, but according to legal complaints," the Babylonyan Movement said in a statement.
The charges
On May 6, 2023, Cardinal Sako held a press conference in Baghdad, accusing Rayan Kildani of confiscating Christian property.
"Rayan Kildani wanted to take over the churches and homes of Christians in Nineveh province," Sako told the conference.
He also rejected Kildani's accusations of "seizing the land of the Christian community", stressing that "who is Kaldani to hold us accountable for buying and selling when we are acting according to the law?"
Video: Sako and Kildani supporters demonstrate at Tahrir Square in Baghdad, May 12, 2023. KirkukNow
Kildani and Sako have also launched a media campaign in the media.
"Neither you nor anyone else has the right to sell the property of our sect and its people. We will hold you and anyone else accountable according to the law," Kaldani said in a statement. "That's the reason behind all your problems with us."
On May 5, 2023, the Iraqi Supreme Judicial Council rejected a complaint against Cardinal Louis Sako.
Two decades ago, Iraq was home for over 1.5 million Christians, 3% of Iraq's population falling to 800,000 in 2003 following gulf war. They are mainly living in the provinces of Baghdad, Nineveh, Duhok, Kirkuk and Erbil. Latest figures say currently only 250,000 to 500,000 Christians are living in Iraq. The number of Christians in Iraq has fallen to 250,000, mostly in the Iraqi Kurdistan Region IKR, the Iraqi High Commission for Human Rights said last March.
The Iraqi constitution recognized Christianity, second religion in Iraq following Islam, and their Syriac language. Figures by the Iraqi Kurdistan Regional Government KRG shows that out of 700,000 IDPs in 26 camps for Internally Displaced Persons IDPs, over 7% are Christians.