His years of separation from Samia upsurge the bitterness of displacement on Dakhil Hassan, without diminishing his hopes of reuniting with his missing wife.
He endured nearly nine years, and never listened to people or pressure from his surroundings.
"Many people told me that Samia would not return and that I should get another wife, but I never gave up and said that no one else would be my wife except Samia," Dakhil told KirkukNow.
Dakhil and Samia have been married for less than a year when Islamic State of Iraq and the Levant (ISIL) fighters take control of Shingal (Sinjar) district of Ninewa province and took thousands of Yazidis as captives, including Samia.
"I have not been waiting for Samia in vain. We have been in love for five years before we got married. Only death could separate us," Dakhil said. He and Samia married in September 2013 and settled in the village of Rambus, 10 km southwest of Shingal.
I never gave up and said that no one else would be my wife except Samia
Dakhil, 29, was at home during the ISIS attacks while his wife was back to visit her parents in the village of Solagh (less than 10 km northeast of Shingal).
"First, ISIS went to Sulagh village, where Samia, her father's house and relatives fell into the hands of ISIS fighters," Dakhil recalls.
On August 3, 2014, ISIS attacked Shingal, took control of the city and surrounding villages, took 6,417 Ezidis (Yazidis) as captives, including women and children, the fate of more than 2,600 abductees is still unknown.
"I was in the village of Solagh. We all fell into the hands of Daesh (ISIS). After a few days we were transferred to Tala'afar (west of Nineveh), then to Mosul, then to Badoush prison (north of Mosul)," Samia recalled her bitter story.
Samia, 29, was kidnapped by ISIS along with her father, mother, two brothers, uncle and aunts.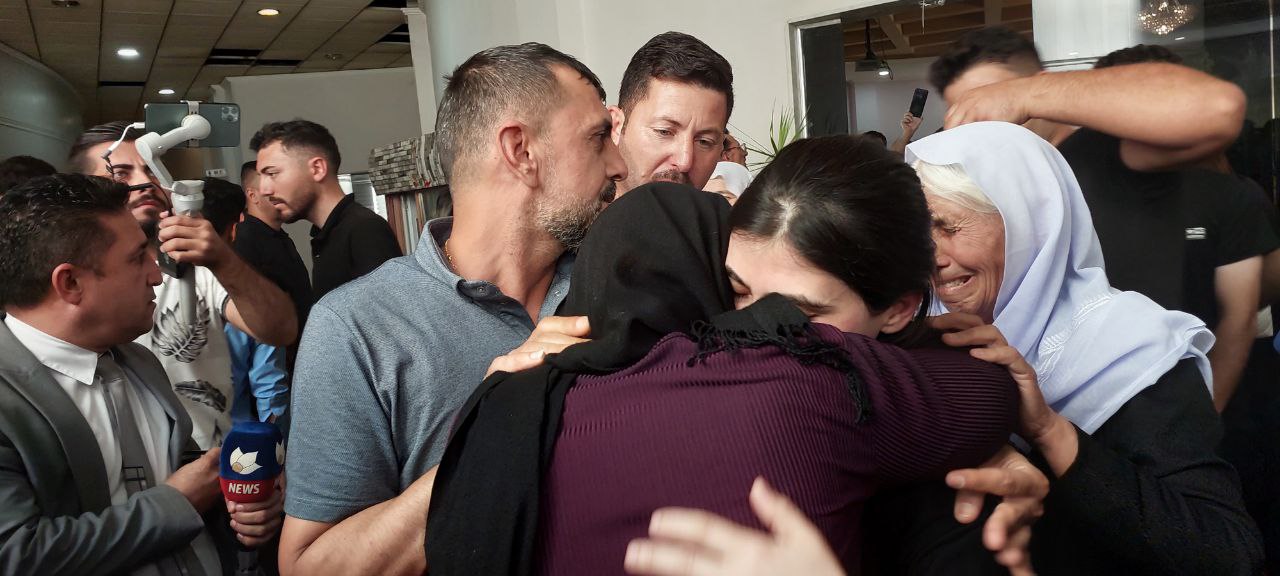 "All I was worried about was being rescued as soon as possible and reunited with my husband, but I was destined to be separated for nine years."
Samia was detained in Mosul for two years, then sent to Syria, where she spent three years.
"What happened to me under Daesh, I can neither tell nor describe, I endured all the hardships and misery, ... what was done to me, everything was done by force, without my will," Samia elaborated.
Kidnapped Yazidi girls and women faced torture, slavery and sexual assault by the extremist militants of IS, after being trafficked, and the children of the religious community were forcibly recruited through the organization's intellectual education and after forcing them to convert to Islam.
in the attacks of ISIS; 1,293 Yazidis were killed, 68 shrines were destroyed and over 80 mass graves have been discovered, an atrocity that forced 450,000 to leave their homelands.
All I was worried about was to be rescued as soon as possible and reunited with my husband
Dakhil Hassan's village is about 20 kilometers away from Samia's father's village, so he cannot follow his wife's fate at that time and only manages to escape to Mount Shingal after a dangerous two-day journey.
They stay in the mountains for about a week without food or drink as ISIS surrounds the mountain, until a road is opened to Syria and from there return to Iraq, settled in the Qadiya camp in Duhok Northern Province.
"For two years I was trying to find out about Samia. I didn't know what to do. I was in a bad mental state until 2016 when I got a call from Samia," Dakhil said.
"I said on the phone, Samia, save yourself," Dakhil said. Whenever a group of hostages were rescued, I wished Samia would be among them and put an end to our separation."
Only Samia's mother survived in 2015. She did not know anything about her daughter. She still has no information about the father, sons and others.
Video: Celebrations for rescue and return of Samia and five other abducted Ezidis, Duhok, June 2023.
"The time I was able to contact Dakhil, they found out later and I can't even tell you what happened to me," Samia said.
ISIS was defeated in Syria in March 2019, as the Syrian Democratic Forces (SDF) announced at the time, yet no credible news about the fate of Samia and other Ezidi hostages.
Samia says she was smuggled from Syria to Turkey in 2018 by an ISIL family. She worked as a tailor in a city there until she was able to contact Dakhel about three weeks before her rescue.
On June 8, 2023, Samia and five other Ezidi women were returned to Duhok and they were welcomed by their relatives with celebrations, songs and applause. None of them wants to go into details about how they were rescued.
Dakhil and Samia, after reuniting and ending nine years apart, hold each other tightly, while the tattoos on their hands follow each other and complete their names, Dakhil wrote (SAMEA) in English on his left hand and Samia wrote (Dakhil) in Arabic.
Samia to Dakhil: I'm so glad you have been waiting for me all these years
"I'm so happy to be back and you've been waiting for me all these years. I think we've just got married," Samia said.
The renewal of the marriage becomes a reality; With the help of several Ezidi donors, Samia put on her wedding dress again on June 16, 2023 in a wedding hall in Duhok.
"My love with Samia is nothing short of a story," Dakhil said.
They are now living in Qadiya camp. Like thousands of other Yazidi families, the fate of their return to Shingal is unknown.