Activist Ali Makdam fled Baghdad and moved to a hotel in Erbil as a result of the death threats he received during the social uprisings, similar to what over 200 activists and journalists faced; abduction and detention, and threats.
Makdam, 21, with his friends had already expressed their grievances before the spark of the protests, raising slogans during a football match between al- Zawra'a and al- Shorta clubs at the famous al- Shaab stadium in Baghdad, mobilizing people to rise up.
"My friend and I decided to start the preparation for the protests, initially we began the campaign in last August on social media. I started receiving the threats after encouraging people to participate in the protests," Makdam said.
I started receiving the threats after encouraging people to participate in the protests
In October 2019, a wave of demonstrations began in Baghdad and numerous other provinces in Iraq, protesting against the rampant corruption in the government institutions and aiming to improve the livelihood of people, create more job opportunities and deliver basic services. Even though the protestors were killed, inured, and suppressed, they were not silenced and remained on the streets.
Makdam and his friends kept the protests on and said that he had several interviews with the local and international televisions to deliver the voices and demands of people, however, when he returned to his apartment on October 8, 2019, he saw that his house was searched and the properties were "damaged."
"The threats did not stop there, I received many threats through phone call and on social media, which forced me to flee to Erbil," Makdam claimed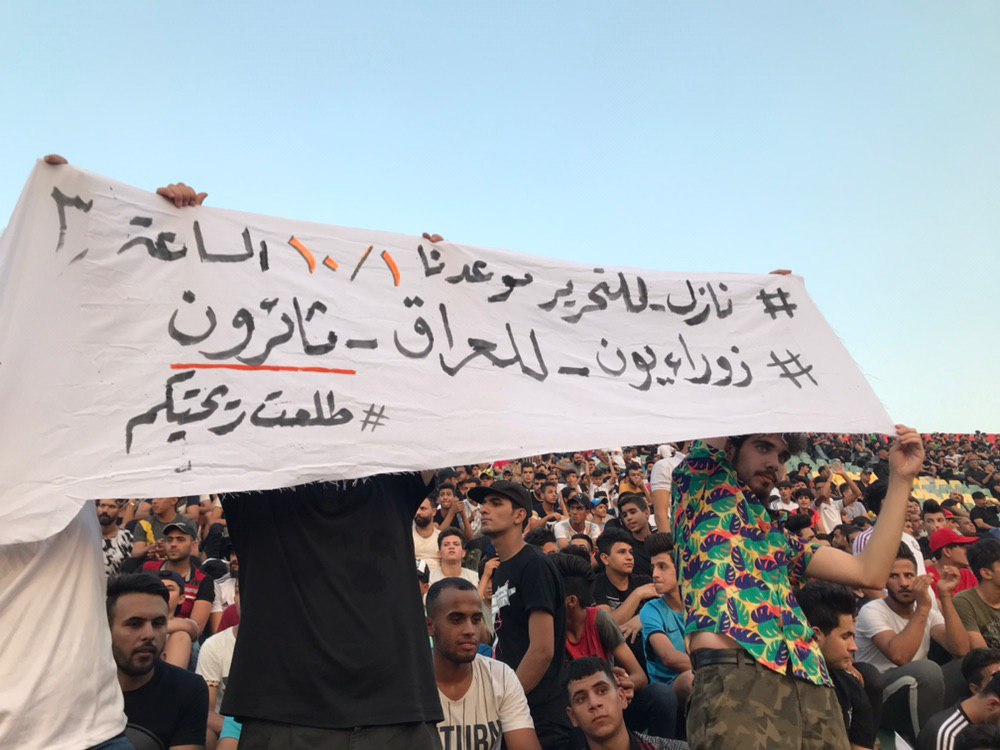 The protests lasted eight days in October 2019 as the security forces cracked down on demonstrators and the commemoration of Imam Hussain started. Nevertheless, the demonstrations once more kicked off on October 25, 2019 and it is still ongoing.
Makdam returned to Baghdad with the resumption of the protests and bought several tear gas masks for his fellow protestors, which he bought from the donation he collected during his stay in Erbil
"I did not leave the Tahrir Square for two months due the fear of assassination and physical assault, but later the Tharir Square also turned into a threat to my life because some of the militia members joined the protests. Then, I was forced to leave Baghdad permanently," he added.
Later the Tharir Square also turned into a threat to my life because some of the militia members joined the protests
Makdam further revealed that, "the militias threatened me that they would kill my family members, who were also forced to move to the Kurdistan Region."
He was not the only activist who received death threats but "over 200 activists and journalists faced violence from October 1st to January 31st 2020, according to a data published by the Organization for Defending the Freedom of Journalists.
The data shows that, "three journalists were martyred, 37 cases of deaths threats against media workers, journalists, and activists were recorded, four cases of abduction, and 10 cases of journalists and activists detention while the covering the protests were recorded."
Despite such violations, the data also reveals that record of 91 cases of attacks and preventing journalists, activists from covering the protests, the media institutions were attacked 20 times, and 20 media office were closed.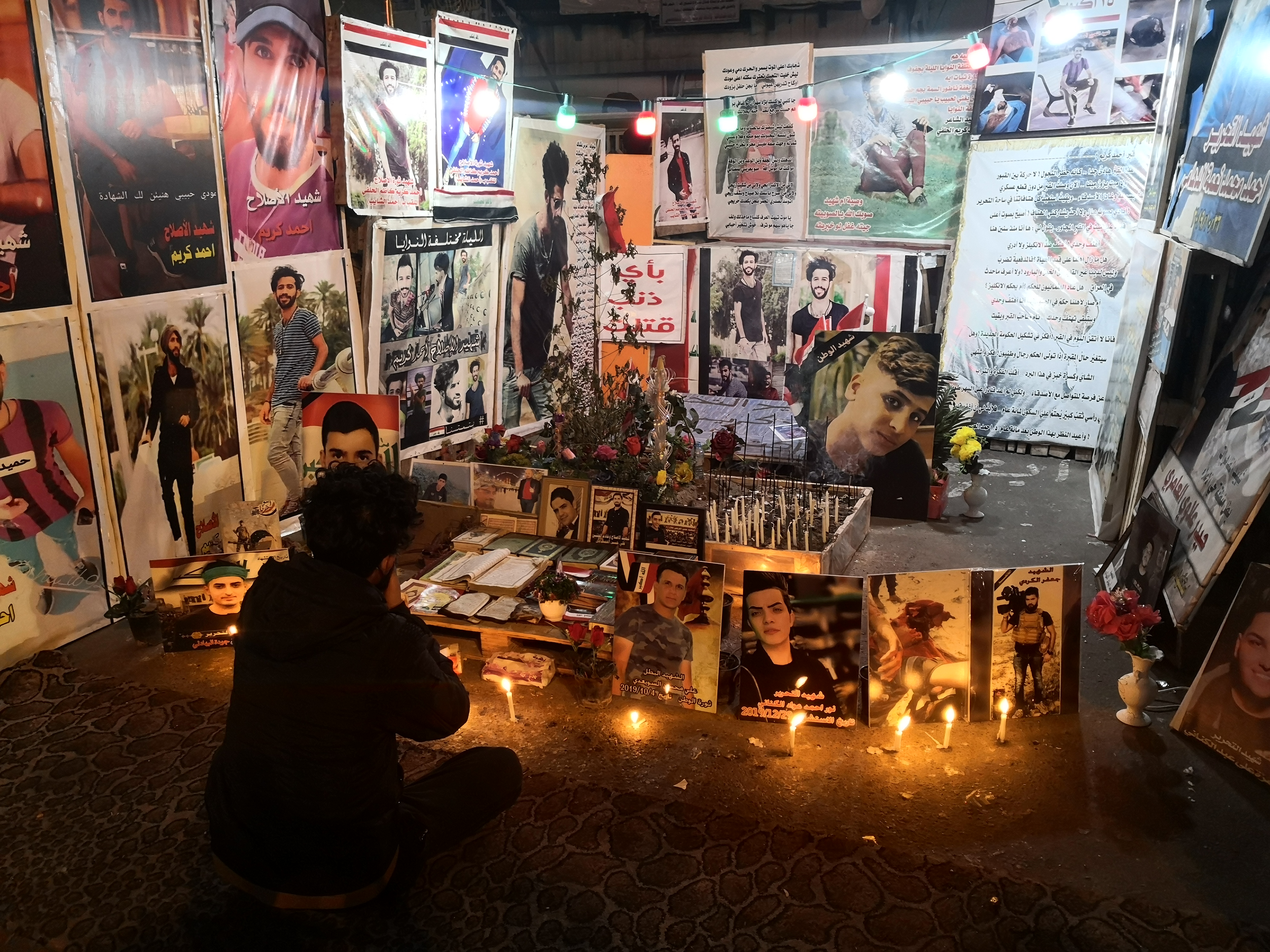 Successive Arrest Warrants
Being arrested has become something normal for Ali Hashm as he has been arrested seven times since 2003.
Hashm is another activist, who told KirkukNow, that, "the last time I was arrested in October 2019 was different, honestly, it was similar to abduction."
Hashmi was driving his car when a numerous gunmen wearing military uniform stopped him and accused him of driving a stolen car, claiming they were Combating Violence Policemen
"They arrested me with such accusation, but later said I am accused of encouraging people to protest," Hashmi said.
He also mentioned that neither the gunmen had judge's arrest warrant and nor did his family know where he was detained for a week. He was later released on a 10 million Iraqi Dinars bail.
"My friends who were detained were physically assaulted," Hashmi claimed.
He said that, "we learned that the court's arrest warrant was issued by the security authorities, we still did not know whom they were. Some said they belonged to the Popular Mobilization Forces (PMF), others say they belong to the National Intelligence Service."
We learned that the court's arrest warrant was issued by the security authorities
Investigation was not enough to Hashmi to escape from the militia members as they kept eyes on his house and were threatening him, but none of these could force Hashmi to quit protesting, he explained.
He said that, "majority of my friends, who were detained and faced violence, have completely concealed, including my friend, Dr. Maysam Hlu, who were abducted by thugs and later released in return for money. He was forced to completely hide, he even closed his clinic."
Several lawyers voluntarily investigate into the arrest cases of the protestors. Shaima Jabari, who is one of the volunteer lawyers, told KirkukNow that, "most of them were arrested without an arrest warrant. We informed the youths that they have the right to appeal as their detentions took place without court's decision. But later those who detained them issued their arrest warrant."
"Most of the detainees faced different kind of torture, trying to force them to sing certain documents that would indicate they have committed terrorist acts," Shaima claimed.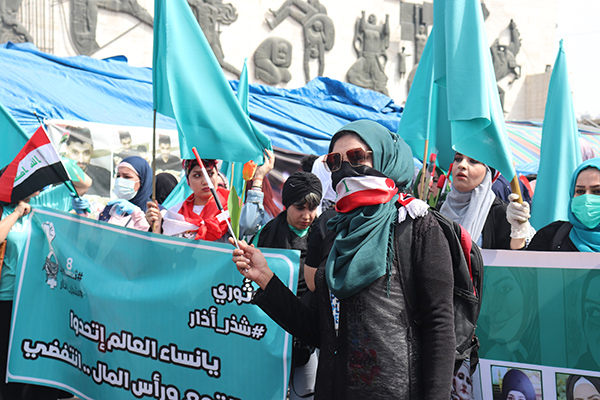 Women were not Excluded
Nasrin, who is a journalist, explained what she went through since the spark of the protests. "A close person of mine who works at the Iraqi National Intelligence told me that I had to leave Iraq as soon as possible because my life was at risk. I tried to return to Iraq several times but I was advised not to return, not to mention I was attacked on social media." 
"A close person of mine who works at the Iraqi National Intelligence told me that I had to leave Iraq as soon as possible
Nasrin, who has left her children and family, has settled in Turkey and is yet to return to Iraq. She said she had to deactivate her Facebook account, "when I posted something on Facebook, I started receiving threats, even that I was out of Iraq."
Several women journalists and activists migrated abroad as they lacked protections, Hadir Qaisi, a journalist and activist belonging to the Iraqi Communist Party is one of those women.
"I received threats through my Facebook account on October 30 onward, when I criticized the politicians and those who are imposed by external actors. Despite that, I continued participating in the protests, I even slept there (The Tahrir Square)," Qaisi claimed.
The Facebook threats became real when "numerous masked gunmen raided our house, attacked my mom, wanted to abduct me, but I was not home. Later, they threatened my dad that they would kill me. So I unwillingly moved to Turkey and did not return."
They threatened my dad that they would kill me
Qaisi has returned to Iraq a month ago, but did not go home, claiming that a number of gunmen occasionally visit his father's and aunt's houses to know if she has come back.
KirkukNow earlier in report revealed the scale of violence committed against protestors is immense, showing that 650 protestors were killed, 25 thousand were injured, and five thousand became disabled.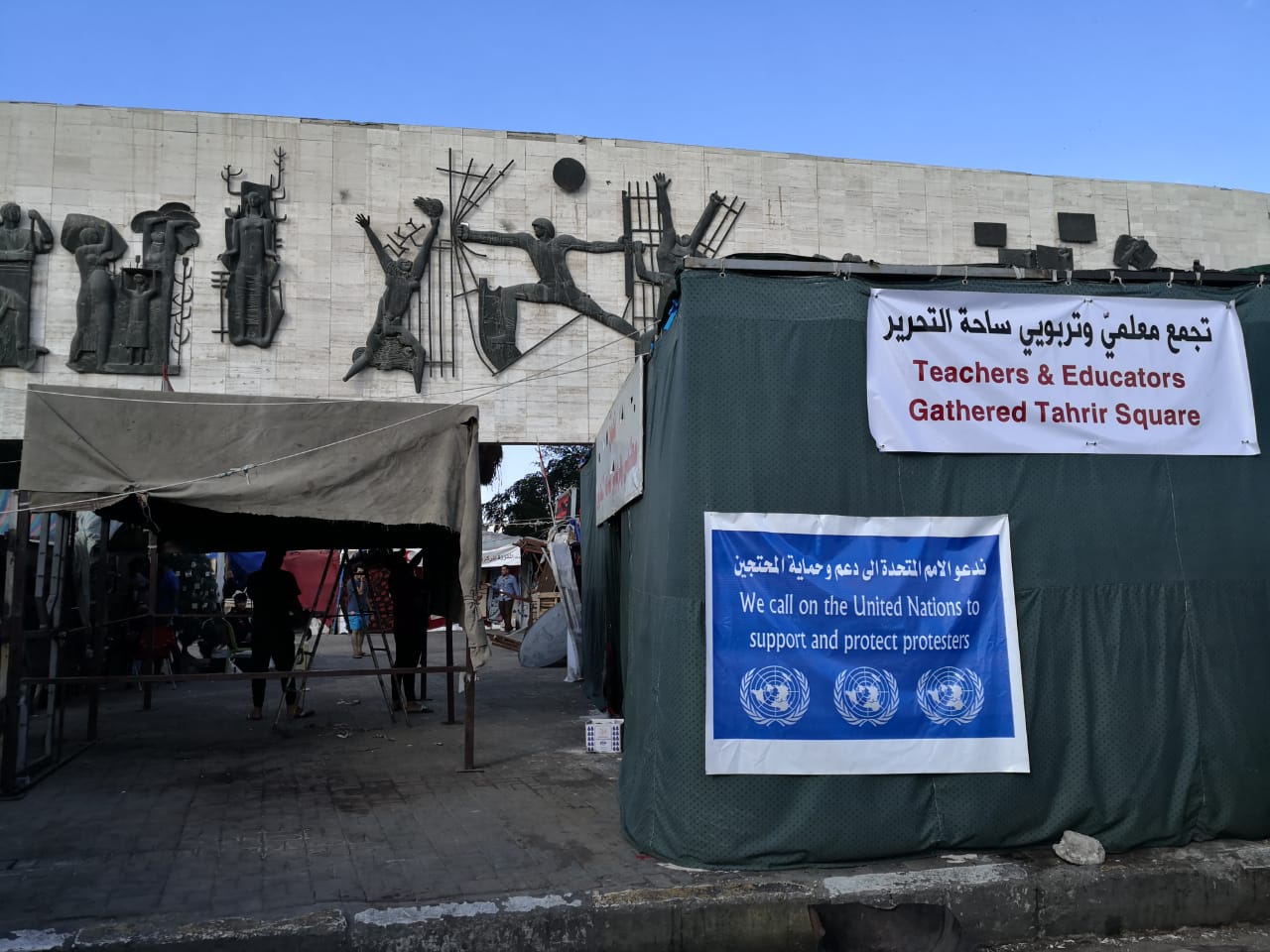 International Condemnations
The United Nations High Commissioner for Refugees (UNHCR), on December 20, 2019, expressed its concern on the deadly attacks on the human rights defenders, civil society activists, and the protestors in Iraq.
Meanwhile, the Human Rights Office at the United Nations Assistance Mission for Iraq (UNAMI) called for a speedy and independent investigation into the deaths of the protestors since October 1, 2019.
In the same report, the Human Rights Office urges quick steps to prevent willful killings of the human rights defenders and asks for the release of the detainees and an end to illegal detention.
Government's Acknowledgment for the Violence
The Ministry of Interior indirectly acknowledges that the violence is committed and the ministry is not able to defend the protestors, activists, and journalists alone, after the assassination of four journalists and the abduction of many, especially the tragic murder of Ahmad Abdul Samad and Safa Ghali, who worked for Dijlah TV channel on January 10, 2020.
The ministry of interior in cooperation with the Journalists Syndicate, whose president is Moaid Allami, confirmed that, "they cooperate to provide the journalists with license to carry guns due to the violence against them and the inability of the ministry to fully protect them."
They cooperate to provide the journalists with license to carry guns due to the violence against
Khalid Mahna, the spokesperson of the ministry, said that, "the idea of carrying guns by the journalists came out after many discussions between the ministry of interior and the journalists syndicate."
"This does not mean that the ministry cannot protect the activists and journalists, but the guarantee for their safety required us to issue gun license so that they would be safe no matter wherever they are."
The Iraqi Council of Representatives is yet to pass a particular law to protect journalists. Mustafa Nadr, president of the Organization for Defending the Freedom of Journalists, claimed, "we have been working with parliament since 2011 to pass a law to protect journalists, but our efforts have been on hold since the spark of October protests."
There is the possibility for being murdered at any moment
After all the violations against activists, journalists, and protestors, Ali Makdam does not plan to move back to Baghdad unless he is guaranteed that his life and the life of his family are protected, claiming that, "there is the possibility for being murdered at any moment."