"My awareness originated from the era of sectarianism, when people killed each other for sect, religion, and ethnicity. I asked myself: why are they killed? Is the embrace of a sect, religion, ethnicity punishable by death?" Safa Salah, who is a pharmacist, asked herself such questions when she was only 10 years old.
Nearly 50 thousand people were killed due to the surge of ethno sectarian conflicts that took place from 2006 to 2008 in several Iraqi provinces including Baghdad, where Salah grew up.
Pictures of death and killing were trapped in the mind of Salah, thus she decided to become a peace keeper, combat violence and extremism, promote peaceful coexistence. She started seeking for ways through which she would be able to overcome the barriers and advocate for peace and coexistence.
The transitional point  
Participation in the workshops, social gatherings, and scientific conferences gradually helped Salah solidify her beliefs in peaceful coexistence.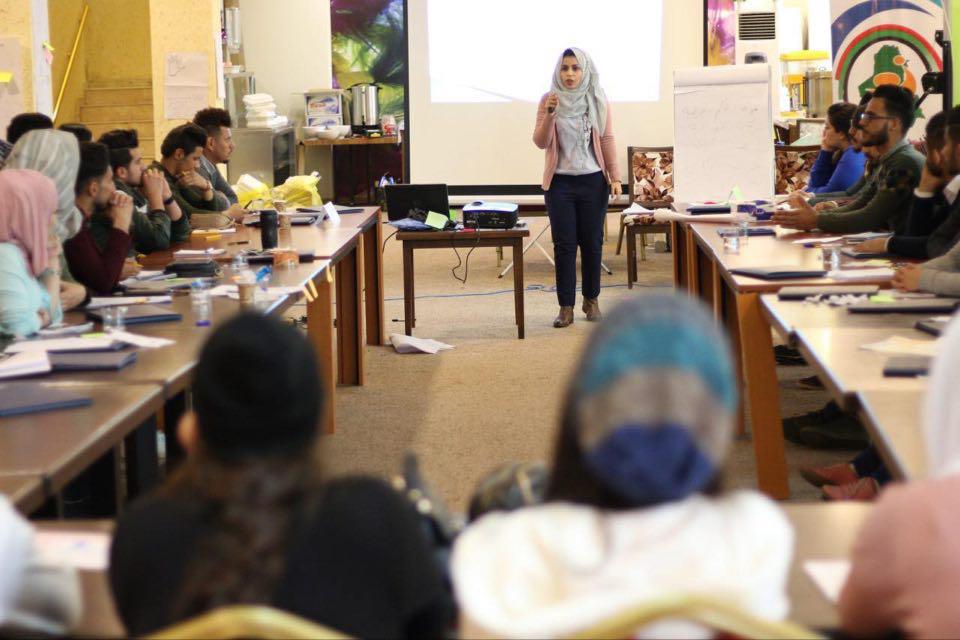 Salah participated in a crucial program, named "let the voices of the Internally Displaced Persons (IDPs) be heard," in which the topics related to the IDPs, women, minorities, and gender equality were discussed.
The program has started 2018 and is supported by Hivos Organization. Several organizations have been involved in the project, including al- Amal Association.
The overall objective of the 24 -month project is to support equitable representation and enhanced engagement of IDPs, in particular women and minorities, in the national and provincial elections. The program has taken place in seven Governorates where IDPs from different minorities are present: Duhok, Sulaymania, Erbil, Ninewa, Baghdad, Najaf and Kirkuk.
The project has three main objectives, which include that "IDPs are aware of and can exercise their active voting rights in the areas of displacement, IDPs, in particular women and minorities, have the capacities and motivation to take up leadership roles in communities and politics, and political parties and community leaders promote an approach of non-violence during elections."
IDPs are aware of and can exercise their active voting rights in the areas of displacement
Salah said that, "the training sessions offered by al-Amal Association left significant effects on me, it turned me into a human rights activist."
Al-Amal Association is a civil society organization founded 1993 in the Kurdistan Region but later expanded its work across Iraq. It has a vital role in the implementation of the project, holding numerous training sessions across the country, in which tens of young people received training on how to support deal with the IDPs. One of the attendees was the 24 years old Safa Salah
The training sessions Salah attended in Erbil in 2019 were different than those she had received before. She intellectually and academically developed her skills and knowledge. She previously considered some social norms and acts as normal but they were acts of violence, human rights violations, and oppression.
"My perception toward certain acts took another direction that encouraged me take actions. I have to implement the training sessions I had on human rights and gender equality as well as utilize the tools and skills in different situation so that I would be a factor for change and an advocate for peace." Salah explained how transformative the sessions had been to her.
My perception toward certain acts took another direction that encouraged me take actions
Dealing with the IDPs 
After receiving the training sessions, Salah launched a two-month awareness raising campaign in the IDP camps in Baghdad, especially in Abu Ghrib and Latifiya areas. The campaign aimed at encouraging the IDPs to participate in the elections and elect their representatives.
The 24-month long project resulted from the mass displacement of one million and 300 thousand Iraqi citizens due to the surge of violence between the armed groups and the government forces, leaving them with a difficult financial situation and no options to deliver their unheard voices. Consequently, the program was designed to deliver their voices and protect their rights.
Hivos Organization, which supports the program, believes that a general election that includes all citizens grounds for peace: whenever the electoral rights of the IDPs are guaranteed, then the chance of violence will decrease."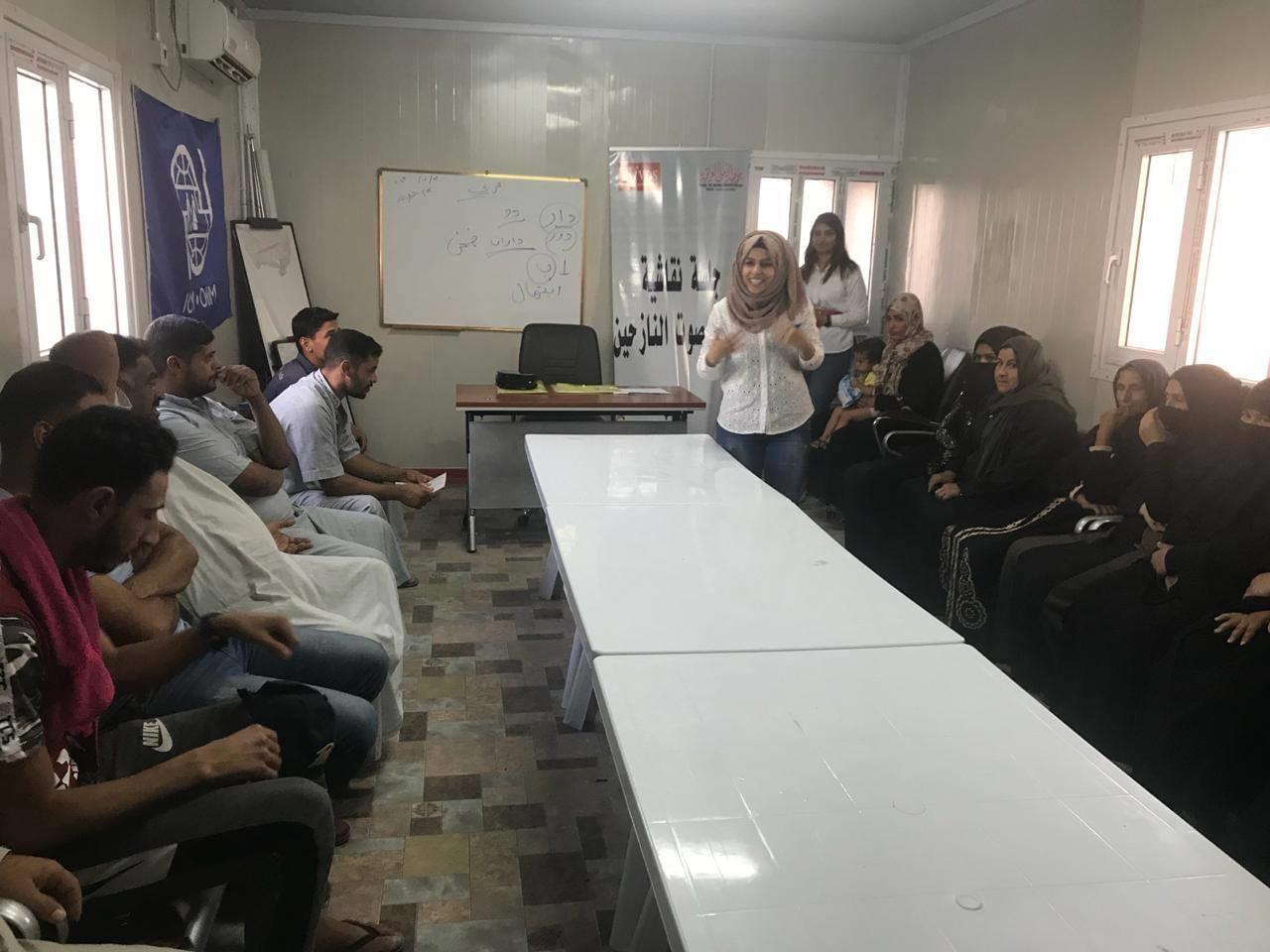 She mentioned that the most controversial discussion was related to politics due to the misery and displacement the IDPs have gone through.
Salah explained that in one of the sessions, a 40-year-old woman appeared strong and also supported Salah's points on the importance of the IDPs participation in the elections. However, her fellow IDPs neglected her beliefs and found it "ridiculous."
Nevertheless, the woman insisted on her perception and asked them, "if we do not participate in the elections, what will be the tool to change our life? If we do not vote, who would restore our rights?"
If we do not participate in the elections, what will be the tool to change our life?
The IDPs later started listening to the arguments of the woman, who eventually asked them "if I nominate myself as candidate, would you all vote for me?" What was surprising to Salah was that most of the IDPs rose their hands and said they would vote for her.
That women taught Safa Salah that change does not happen easily but rather requires consistency to create trust in the changes that should happen to society. Subsequently, Salah decided to dedicate herself to the principles of peaceful coexistence and human rights to make the changes she has wanted to witness, similar to how "the hero woman" changed the IDPs perception.
Salah advices women to be united and avoid degrading one another in order to create a friendly and empowering environment for women. She also calls upon women to unify because their empowerment can create a new generation and a strong society.