Narmin Othman: success of women is my success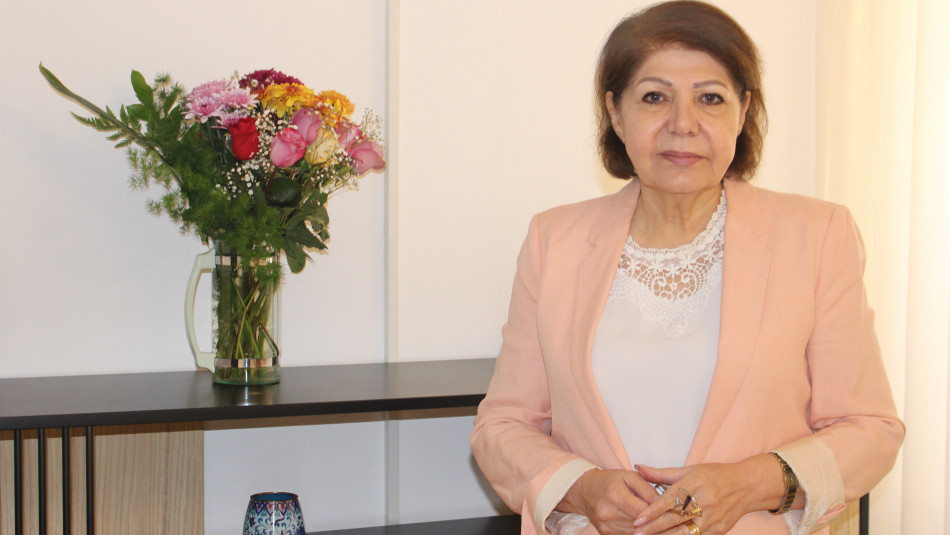 Narmin Othman says that when she first became a female Peshmerga, a villager woman told her, "these are fugitives." This indicates that it is not easy for women in Kurdish society to get involved in politics, but Narmin did not give up until she reached highest governmental positions and become one of those women who secured ministership at both the federal council of ministers and regional council of ministers in Iraq.
Women participation in politics in Iraq including Kurdistan Region has beed sidelined. In the last 50 years, a woman's name appears from time to time who has always been involved in politics, organizations, and writings. That woman is Narmin Othman, who is a former member of the Patriotic Union of Kurdistan (PUK) leadership council. She had been a minister in numerous cabinets of federal and regional government.
Othman at a young age become a member of Kurdistan Students Union (KSU) in 1964. She said, "when I became a university students and started working at KSU, only six female student had finished high school and started pursuing their studies at universities. She gave this example to show that society back then neither allowed women to study nor did it allow them to go out at their homes freely.
Only six female student had finished high school and started pursuing their studies at universities
Othman developed in organizational work quickly and when she was only 20 years old, she became head of Kurdistan Women Union (KWU) and said that her mother was her strongest motivator and supporter to take significant steps. She still does not wear a ring or bracelet. She said, "I was young and my mother told me not to wear because bracelets are sings for constrains and restrictions. Perhaps, she still follows what her mother told her decades ago.
Leftism influenced Othman and she later joined Kurdistan Ranjdaran Group, a Marxist party. She was forced to leave her city and moved to the mountains to continue the struggle there as Peshmerga. When she became a woman Peshmerga, Only Hero Ibrahim Ahmad was another female Peshmerga, who was the wife of former Iraqi President, Jalal Talabani.
The barriers the female Peshmerga faced were significant. Othman explained, "when I moved to the mountains, I visited Nawshirwan Mustafa, who was the secretary of Kurdistan Ranjdaran Group. I imagined that he was happy and would have motivated me because a woman had decided to become a Peshmerga, but he told me otherwise. He said you belong to a Sheikh family, go welcome your guests, who told you to become a Peshmerga. Even though later Mustafa explained to her why he said that, she expressed her feelings as if she has not yet forgotten what Mustafa said to her.
"Those women who became Peshmerga after me faced many problems I faced and the men thought that women should not be involved in politics."
In that era, Kurdish society did not easily accept women involvement in politics. Some of the villagers considered the female Peshmerga as if they were committing sins. Othman said, "I myself heard that once a female was telling her friend that we are fugitives."
The societal obstacles and prevention did not stop Othman. She continued being a Peshmerga and established her stronghold in her party, which paved the way for her to secure governmental positions.
After the Kurdish uprising and the establishment of the first Kurdish government in Iraq, Othman was one of those women who were appointed for governmental positions. In addition, she also became a minister in the Iraqi federal government after the removal of the former Ba'ath regime in 2003.
She did not hide that she was under immense pressure and had to have strong abilities to defend the rights of women when women subjects discussed. In the meantime, tens of men had different perspectives.
"Once, in a meeting of the council of ministers which was chaired by Nouri Al Maliki, former Iraqi prime minister, I said that women should no longer be required to have the approval of her family or husband to get a passport. Some of the men ministers laughed as if they mocked my statement. I strongly hit the table and said from now on when women topics come up and if I see anyone making smallest smile, I wil l resign and will tell the reason to public. Since then, no one repeated that attitude."
I wil l resign and will tell the reason to public
When Othman told this story, a strong power was perceived, showing that she is still be ready to fight for the rights of women.
As a woman minister, she experienced many challenges in the Iraqi interim government headed by Ayad Allawi and later in the first elected Iraqi government. She still believes that women should confront challenges and neglect societal created barriers. "The bigger the barriers, the stronger the resistance and power of women should be so that they well overcome the obstacles."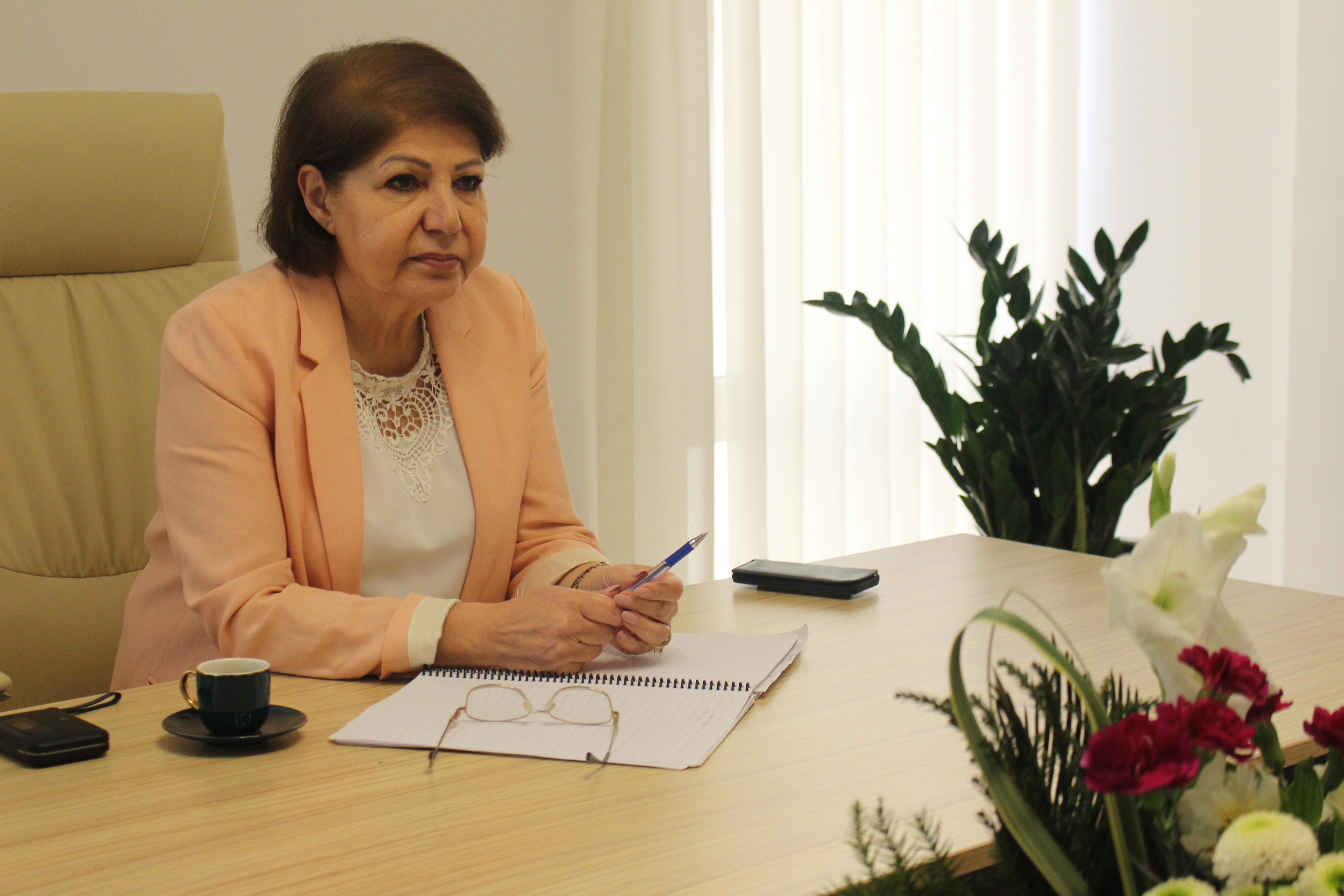 The participation of Othman and other women in the Iraqi federal government as well as in the Kurdistan Regional Government established the ground for further women involvement in the following government.
"I am glad to see that speaker of Iraqi Kurdistan Parliament is a woman, and there are also woman ministers. In addition, women have reached the center of decision of the political parties. I see this as an achievement of mine. Surely, if I and other women had not got involved in politics and had not presented a good example, then women would not have been able to take the way we took. Nevertheless, we succeeded and broke several barriers for other women.
Yet, she thinks women's participation in politics is not at the demanded level and wants women to involve more in politics and decision-making process. However, she said lack of financial independency, equal opportunity to develop themselves, and the societal barriers are still main barriers to women.
"I was working as a tailor and a private tutor at home in order to afford my children's' studies expenses and to provide my husband with money who was in jail," she said and expressed her strong belief in the correlation between financial independency and decision made by women.
She explained that when she decided to involve in politics, her family were supportive. The barrier was the dominant perception in the society and an enemy named Baathist regime, but she thinks that now there are tens of obstacles to women participation in politics including economic system, culture, financial difficulty, technological expansion etc.
Now, in order to develop politically, you need to be strong financially and have a militia force. The nature of politics has become this way here, but women hardly reach that two means. So they cannot have a strong political position," she said and held a deep breath and added, "but we cannot become hopeless, we should continue and have greater goals." 
She, in her political career, failed numerous time, but after each failure, she stood up stronger and strengthened her hobby to confront challenges. The last time she failed was that when she could not secure enough votes to again become a member of the leadership council of her party in its four conference. However, she said, "as soon as I was informed about the result, I started preparation to reopen Narin Institute to resume academic activities.
As soon as I was informed about the result, I started preparation to reopen Narin Institute to resume academic activities
Narmin Othman is over 70 years old and her heart is with those women who dream of being involved in politics at a young age. She tells them; be strong and face challenges. Strive for the dream you have and when you fail, do not give up.
Balen Izat Mika