Muhammad Hussein, 30, was arrested by Islamic State (IS) fighters at his house in Mosul who accused him of writing slogans against the group. His penalty was death, and his body was dumped in a sinkhole called al-Khasfa.
Om Ala'a who is in her 60s broke in tears as she told KirkukNow about the day her son Muhammad was arrested. "On a cold evening of February 2015, an armed group dressed in the group's black attire stormed our house and said they were taking my son for investigation."
When Muhammad's father asked the gunmen why they were taking him, they said he was posting anti-Islamic State slogans.
"They turned to my husband and asked him: Do you agree with that? My husband stood speechless," said Om Ala'a.
"On August 7, 2015 news came that IS has posted lists of people detained by the group on the walls of the al-Jimhuri general hospital on the right side of Mosul. My husband and my son Ala'a went to look for his name in the lists, but when they came back they said they were told that Muhammd had been executed and that his body was dumped in the al-Khasfa sinkhole," she added.
Al-Khasfa is a deep hole located in the desert area south of Mosul.
IS turned this sinkhole into a mass grave after they overran Mosul in 2014, and used it as a dumping ground for the lifeless bodies of those who were mass executed by the group.
Eyewitness relates the horror at al-Khasfa
Mousa Hussein Muhammad, member of the Tribal Mobilization forces says he has been to al-Khasfa 4 times when Mosul was controlled by IS.
"Al-Khasfa is a dark creepy sinkhole. When you throw a rock into the pit you cannot hear the sound of its collision. I tried this several times with some friends," he told KirkukNow.
"When we were getting close to the sinkhole we could smell the corpses. The sinkhole is located in an abandoned area, which makes it even more creepier."
He added that IS militants have filled it and booby-trapped it with explosives, making excavation particularly complex for local and federal authorities.
Al-Khasfa is located near al-Athba village, 20 km south of Mosul.
Al-Khasfa, a site for summary executions
Iraqi writer and researcher Abdul-Jabbar al-Jiburi says al-Khasfa witnessed a mass extermination campaign against the residents of Mosul. "The dumping of the bodies of over 2070 in this sinkhole by the Islamic State extremist group is a crime against humanity," he said.
Al-Jiburi criticized the government for not allocating compensations for relatives the victims of the Islamic State's brutality.
He indicated most of al-Khasfa victims are believed to be "security personnel, judges, media workers, election candidates and tribal leaders who were executed by the group and their death was announced on August 7, 2015."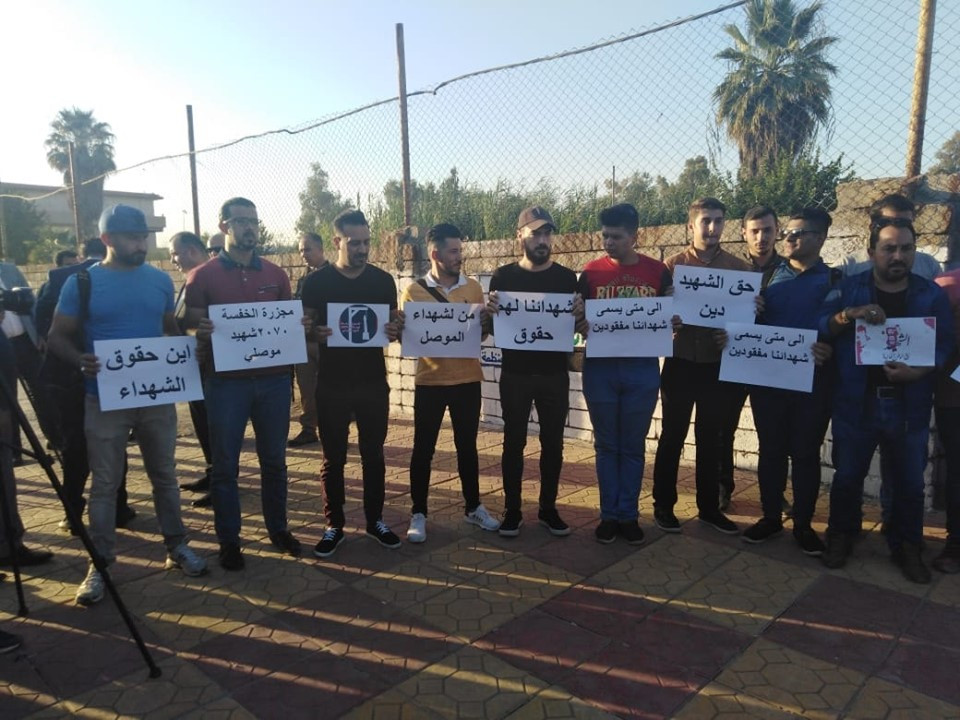 What is al-Khasfa? Is it possible to reach its bottom?
According Alwan Rabih, researcher specialized in geology says the al-Khasfa sinkhole is 184 meters deep and 50 meters wide, indicating the lack of a detailed study about the site due to government negligence.
"Local teams are unable to reach the bottom of the pit because they do not have the necessary equipment, and also due to the existence of poisonous gases," he said, emphasizing that foreign teams should undertake the excavation task to unearth the bodies of the victims.
Earlier a Human Rights Watch report indicated that IS had executed hundreds of detainees and disposed of their bodies in a location near Mosul.
Om Ala'a lost her son more than 4 years ago; Muhmmad has no grave so she could visit. Meanwhile, authorities refuse to enlist him as a martyr.
For Om Ala'a and her husband who has been suffering from hemiplegia and other illnesses, patience is the only thing they have, hoping for a better future.