Iraq's Turkmens are urging the government to help reintegrate over 141 women and children survivors of Islamic State (IS) captivity back into their communities, and help them rebuild their lives.
The demand was outlined during a broad meeting held in Kirkuk which brought together representatives of IS survivors from Ninewa's Talafar district and the leader of the Turkmen Front along with other officials.
According to figures releases by the Iraqi parliament's human rights committee, so far, 119 women and 22 children of Turkmen ethnicity have been freed from IS captivity.
This is the first time Turkmens reveal to the media that their women and girls were kidnapped by IS fighters and were subjected to sexual violence and enslavement. Arshad Salehi, leader of the Turkmen Front cited "strict traditional customs" as the reason why the Turkmen community has been discreet about the issue.
Kalthoum Muhammad, 40, and her four children were abducted by IS fighters when they stormed Talafar in mid-2014, and were transported to Raqqa in Syria, the then capital of the so-called Islamic State Caliphate.  
"We were driven along with hundreds of Turkmen women and children to the Syrian border and then to Raqqa", said Kalthoum.
The horrific story of sexual violence against Turkmen women and girls began in Raqqa.
"In Raqqa, some of the women and girls were forcibly married to IS fighters, some of them were as young as 10 or 12 years;  while others were taken to slave markets to be bartered and sold," says Kalthoum who herself served as a cook in one of the militant group's headquarters.
Kalthoum and dozens of other survivors, who were present at the meeting with Turkmen Front officials, spoke about what they went through in captivity, revealing matters they kept secret over the past 5 years, unlike the Ezidi survivors who soon introduced their plight to the international community.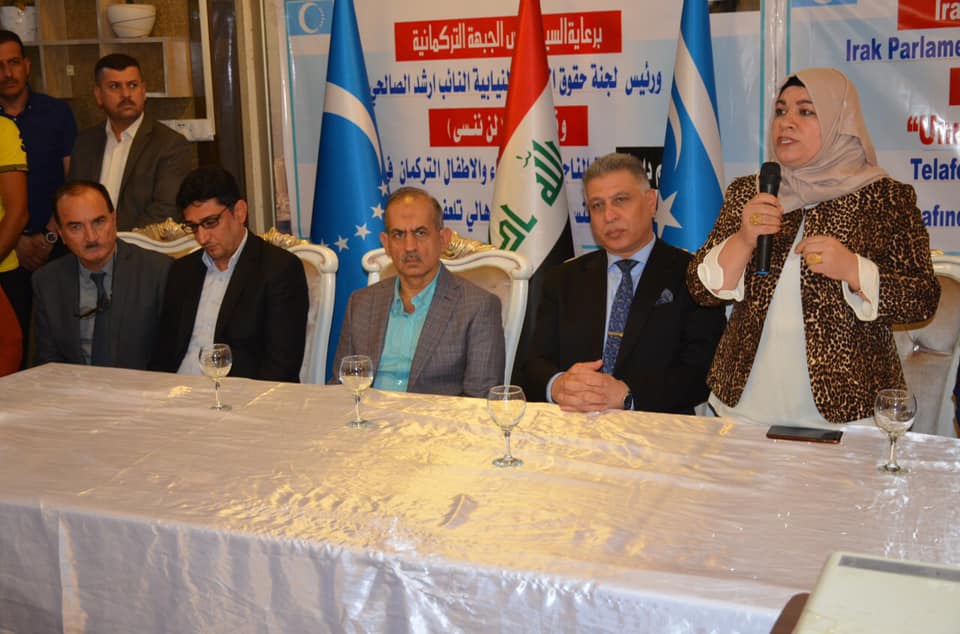 Arshad Salehi, who is also member of the Iraqi parliament's human rights committee emphasized that Turkmens were subjected to heinous crimes at the hands of IS, noting that their traditional culture had prevented them from disclosing the details to the public.
"Today, for the first time, we reveal these details to all; we demand the government to help these people to be reintegrated back into the society," he said.
According to statistics collected by the Ninewa administration 119 women and 22 children from Talafar's Turkmen component have been freed from captivity, while the fate of many more remains unknown.
Some of the Turkmen women and children were killed because they were used by IS in suicide attacks
Sukaina Muhammad, head of the women and children section at Ninewa governorate's office for IS survivors, speaking to KirkukNow, said, "Some of the Turkmen women and children were killed because they were used by IS in suicide attacks."
She added that many of those freed were "forcibly married or sold as sex slaves."
Kalthoum said she was separated from her sister and one of her daughters while in captivity. Later, her husband paid US$ 15,000 to free her and 3 of her little children from IS captivity. Her sister and daughter were also released after a while.
The majority of those who survived IS are displaced into miserable camps outside their homeland and are unable to return home after their houses were damaged during the war.
Kalthoum, for example, now lives with her children in Baghdad.  
Talafar, is a district in western Ninewa with a mixed make-up of Shiite Turkmens, and Arabs. The town was recaptured by Iraqi forces in August 2017.
The leader of the Turkmen Front said "2,500 Turkmens serving within the security forces in Ninewa were slaughtered by IS", adding that "it is time that those who paved the way for IS in their persecution campaign to be brought to justice."
Arshad Salehi also stressed the need to rebuild Talafar, particularly the Ayadhiya sub-district to encourage the return of displaced Turkmens to their home areas.
Meanwhile, Nuraddin Qaplan, deputy head of Ninewa provincial council criticized the Iraqi government for not doing much to assist Ezidi and Turkmen survivors of IS, noting that the council has allocated a special budget to help these families.
What has been done so far to help these families seems to be inadequate, as hundreds of families are still denied the fundamental tools for rehabilitation and to begin rebuilding their lives.