KirkukNow
Former governor of Kirkuk, Najmaddin Karim has intensified his efforts to form a political alliance ahead of the provincial elections for the planned for April 2020, holding meetings and laying out initiatives for some Kurdish political parties.
Najmaddin Karim has revealed to the media his intention to take part in the Kirkuk provincial council elections under an independent list, highlighting the significance of the elections. He recently held talks with top officials of the Islamic Group and the Kurdistan Communist Party as well as Turkmen and Arab leaders with the aim of forging alliances.
Nashwan Jalal, press secretary of the former governor of Kirkuk speaking to KirkukNow said, "Dr. Najmaddin Karim will participate in the upcoming elections with an independent list and has made all preparations to form the list."
"In case a united list is declared by Kurdish political parties, it is possible that Najmaddin Karim would take part in the elections under that list," he added.
 In the past few weeks, Najmaddin Karim separately met with Ali Bapir, leader of the Islamic Group and Kawa Mahmoud, secretary general of the Kurdistan Communist Party (KCP).
A source from the Kurdistan Communist Party said the meeting discussed the provincial elections, indicating that "Najmaddin Karim has put forth an initiative to form a joint list with the KCP, but the KCP rejected the request and said it won't participate in any electoral lists except for the Kurdistani Alliance.
Representatives of nine Kurdish political parties met on September 9, 2019 and decided to participate in the elections in Kirkuk and other disputed territories under a united list; however a final agreement could not be reached.
The Kurdistan Socialist Party said it will participate with its own independent list, meanwhile, the position of the Kurdistan Democratic Party (KDP) and the New Generation Movement remains undecided.
On the other hand, it is very unlikely that Najmaddin Karim would join an electoral list that includes the patriotic Union of Kurdistan (PUK) due to disputes which surfaced following the October 16, 2017 events.
"Najmaddin Karim opted for the formation of a joint electoral list with the Islamic Group; however the leader of the Islamic Group Ali Bapir said they would discuss the matter and inform him about their final position later," a source told KirkukNow.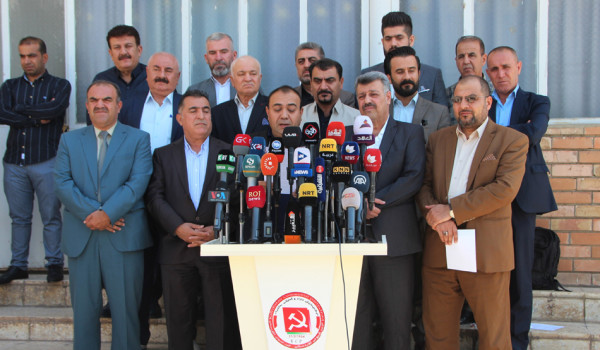 Muhammad Khalil, head of the Islamic Group said that "Ali Bapir and Najmaddin Karim discussed the situation in Kirkuk, the upcoming provincial elections and bilateral ties", indicating that Karim suggested that they form a joint list."
The Islamic Group had proposed the formation of an electoral list called (Kirkuk is Kurdistani) bringing together all Kurdish political parties.
The former governor's press secretary Nashwan Jalal stressed that Najmaddin Karim enjoys good relations with all political parties and personalities and has met with a number of Turkmen and Arab leaders, to persuade them to join his electoral list."
He added that Najmuddin Karim does not reject the idea of joining a united list to run for the provincial elections in Kirkuk.