Iraqi federal police units stationed in southeastern Kirkuk's Laylan sub-district have started a pull out process from the area towards Baghdad, and are due to be replaced by Iraqi army troops, sources told KirkukNow.
The move comes within a set of security reshuffles ordered by the Iraqi federal government.
The withdrawal process began on Tuesday, October 8, a day after a visit by the Iraqi minister of defense to Kirkuk.
A top security official in Kirkuk who spoke to KirkukNow on condition of anonymity said, "The decision to withdraw the units and handing security responsibilities for the area to the army was made several months ago, but encountered a delay."
Defense minister Najah Shammari Secretary General of the Badr Organization Hadi al-Amri were in Kirkuk to oversee the sixth phase of Operation Will of Victory launched to root out remnants of the Islamic State group in southwestern Kirkuk's Hawija district and its sub-districts of Riyadh and Rashad.
"Since dawn, the 2nd regiment of the federal police's 18th brigade has begun to withdraw towards Baghdad. Their positions will be temporarily manned by the army's 61st brigade jointly with Laylan local police. The Iraqi army's 11th division is due to be mobilized from Baghdad to undertake security responsibilities in the area," the source added.
The federal police units operating under the command of the ministry of interior had assumed the security dossier in the surrounding areas of Kirkuk following the October 16, 2017 events.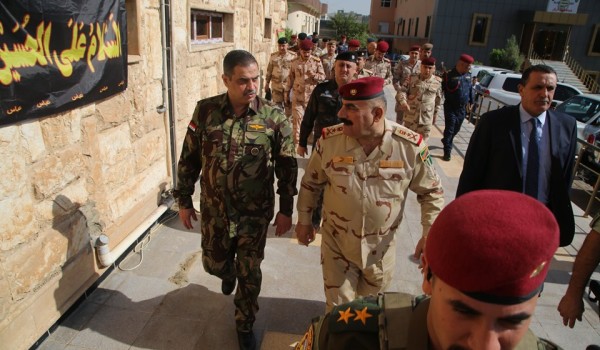 The shifts occur as army units began to pull out of certain areas in the capital Baghdad to be replaced by federal police, particularly after the army was accused of "using excessive force against protestors in Baghdad's al-Sadr area."
Anti-government protesters in Baghdad and other Iraqi provinces  have taken to the streets for more than a week over rising unemployment and poor public services, and are demanding an end to official corruption and a change of government.
At least 104 people have been killed and more than 4,000 others injured in the clashes.
The source indicated that three checkpoints located in the Laylan area are now manned by local police and the army's 61st brigade.
Kirkuk's security dossier is being run by the Joint Operations Command which was formed in early 2019 to supervise all the military and security units deployed in the province, including local police and the Iraqi Popular Mobilization Forces (PMF).