Specialized oil engineering teams from Baghdad along with 100 trucks loaded with oil exploration equipment have arrived in Ninewa within plans to conduct seismic surveys in newly discovered exploration blocks and develop old oilfields in the province.
The Ain Zala oilfield was discovered in Ninewa 1939,  while the Batma oilfield was found in 1953. The Iraqi Oil Company was nationalized on June 1, 1972, and after 2003 oil was exploration resumed in Ninewa Plains leading to the discovery of several other oilfields..
"Four oilfields: Sasan near Badoush, Alan near Ayadhiya west of Ninewa in addition to Qasab and Jawn south of Mosul are being developed by the Iraqi ministry of oil , while the older oilfields include Gayara, Najma, Ain Zala, Batma and Wasifa," said Ninewa governor Mansour al-Mar'id.
The oilfields of Mosul were explored in December 1932 with Italian, British, German, French, Dutch, Swiss and Iraqi funds granted in return for shares.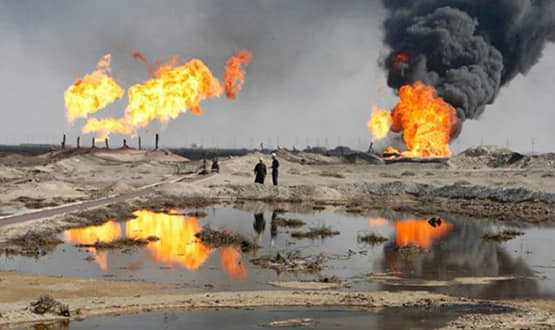 Al-Mar'id explained that the aim of the seismic surveys is to "collect data before embarking on the development of the infrastructure in the oilfields in addition to the provision of job opportunities."
 According to geological studies, Iraq is home to more than 530 geological formations which indicate the presence of sizeable oil reserves.
Azzam Khalil, a local oil engineer, says that the new oil explorations in the province will provide job opportunities for 1200 people during the first stage of exploration.
 "The launch of Ninewa Oil Company and increasing oil production will create more job opportunities and increase the province's petrodollar revenue," he added.
So far, 71 oilfields have been discovered in Iraq, only 27 of them are being fully exploited, including ten giant oilfields.