Ninewa governor Najm al-Jiburi said the northern Iraq province is "no longer an incubator for terrorism" and stressed that "now Ninewa has a fertile ground for foreign investment.
Najm al-Jiburi's comments came on the second day of the Ninawa Investment Forum (NIF) held in Erbil, the capital of the Iraqi Kurdistan Region on Wednesday, December 4, 2019.
KirkukNow as an active partner and supporter of the NIF is covering the activities of the two-day event, which is organized by the Iraq Governance and Performance Accountability (IGPA) project, funded by the U.S. Agency for International Development (USAID.
The forum showcases more than 20 established companies and entrepreneurs seeking funds to expand their operations or launch new businesses. Featured enterprises come from rural and urban areas and include agricultural, food processing, manufacturing, pharmaceutical, tech and hospitality businesses, representing $127 million in investment opportunities.
"Ninewa is Iraq's second largest province and has been greatly affected during the war against the Islamic State (IS) group," al-Jiburi told the gathering.
"Today, Ninewa is facing great challenges and is in dire need of investment to help revamp its infrastructure."
The event is featuring experts and speakers in international investment and development.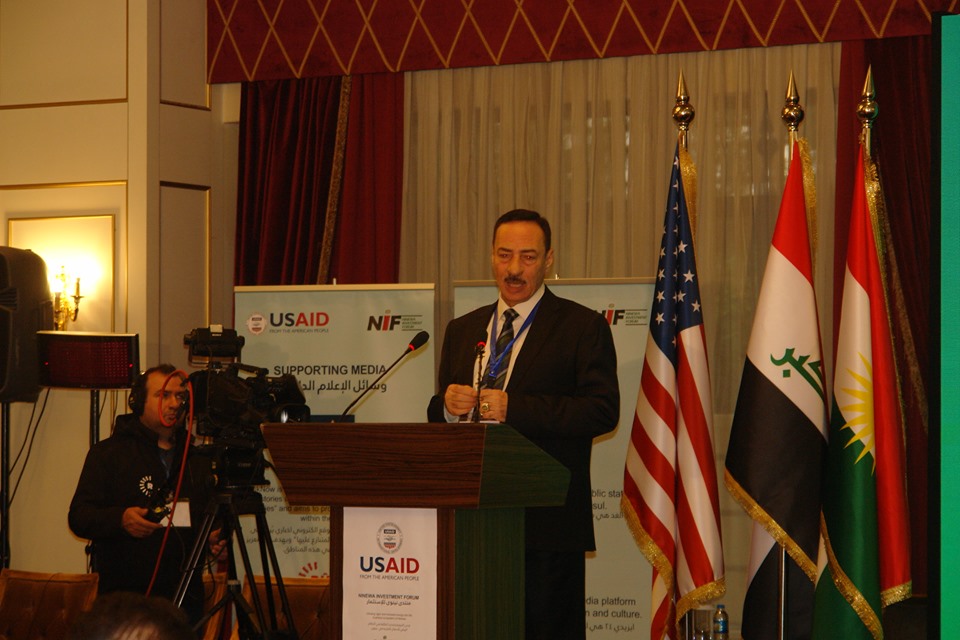 The governor of Ninewa reiterated with the help of the community, the province is no longer considered an incubator for terrorism, adding that Mosul provides a promising ground for investment, citing the work of foreign companies in southern Mosul's Gayara oilfields as an example.
Al-Jiburi urged the United States to play a key role to help bring about economic growth and create job opportunities in Ninewa, pledging all kinds of facilitation by the local administration for investors.
The forum s a unique collaboration between the U.S. and Iraqi private and public sectors to support communities in Ninewa through catalytic investment opportunities.
The NIF is supported by the US Chamber of Commerce, Iraqi Kurdistan Region's Investment Board, Yazda Organization ( an international Ezidi organization), Iraqi Manufacturing Union, Ninewa Chamber of Industry and others.