10 suspects are being investigated into the case of killing Shahin Wesam, a seven years old child, who was ruthlessly beaten to death with a stone and cement block.
Shahin Wissam on the evening of Friday at 11:00 p.m. went to buy biscuits and a can of juice in a local shop near to his grandmother's house in Domiz village, Zummar sub-district, western Nineveh, but he never came back. He was later found dead at 2 a.m. in a mosque.
The initial investigations reveal that Shahin was hit with cement block to death.
Bassam Salwan, Shahin's uncle, told KirkukNow, "Shahin bought things at the shop but did not return home. After an hour of his disappearance, we started searching for him, but we did not find him, we even posted his picture on Facebook."
Salwand revealed that Shahin's dead body was found on Saturday at 2 a.m. in "the Domiz Mosque."
"He was brutally hit with cement block and stones…we have problem with no one, and I have never seen such an incident throughout my life."
Shahin was only a year old when his parents divorced. His father, who has remarried, is a policeman and took Shahin to his grandmother's house most of the time, especially when he was on duty.
10 suspects have been arrested and have been transferred to Mosul for investigations. Shahin's father was on duty when his son was killed.
"We will never agree on tribal agreements to determine the case. The murderers of Shahin must be punished harshly."
Shahin's family has not filed a lawsuit against anyone as they lack suspicions.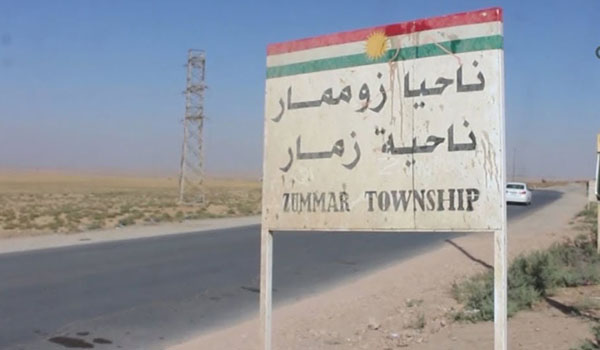 Ahmad Jaafar, the commissioner of Zummar sub-district, said, "the murder of Shahin was barbaric, his head was hit a wall, he was hit with a stone and cement block to death."
"The murderer must be prosecuted, but on one still knows who committed this crime and the reason behind the killing is unknown."
Who are the arrestees? 
The 10 arrestees are a group of youths, who are Shahin's neighbors, his relatives, and people close to him.
"We are continuing the investigations, anyone who has committed this crime or has been involved will be harshly prosecuted," Jaafar said.
A special committee consisted of the Asaysh and the Police forces in Zummar is investigating into the case.
Yunis Fathi, a police officer at Zummar police station, said, "the main reason for the murder is unknown, the 10 suspects investigation is ongoing."
"What is pleasing to us is that the family (Shain's family) does not have any social or tribal problem and they do not know why he was ruthlessly killed."
Safwan Bashir, an Iraqi parliament member, who has investigated into the case, told KirkukNow, "we suspect that someone close to Shahin's family committed the crime, the murder is not terroristic. There is a great possibility it is related to his family."
Bashir added that even with the suspicion, nothing is determined and they are waiting for the outcomes of the investigations.