Youths in the Kifri district, Garmyan administration protested in two consecutive nights against the lack of job opportunities and the civil servants' salaries distribution delay by the Kurdistan Regional Government (KRG). In the second night of the demonstrations, the KRG security forces arrested ten protestors.
The demonstrations were sparked by the KRG's announcement of a new six-day lockdown due to spike of the coronavirus case, which was rejected by vendors, shooponwers, KRG employees. They claim that they are aware of threats posed by the virus, but they are losing their source of income.
Shwan Jalal, who participated in the protests as a teacher, told KirkukNow, "we have been protesting in two consecutive nights.  In the first night of the protests, tensions did not increase, but the security forces arrested a number of youths in the second night."
Jalal said that, "this city has collapsed totally, there are neither any service delivery nor the distribution of civil servants' salaries. There are no jobs, and yet they government wants to keep people indoors without providing any income."
"How do we make a living?" he asked.
KRG revoked the decision and lifted the lockdown yesterday June 3, at six p.m., but it did not stop people from protesting in which they asked for job opportunities, distribution of servants' salaries and easing the economic challenges.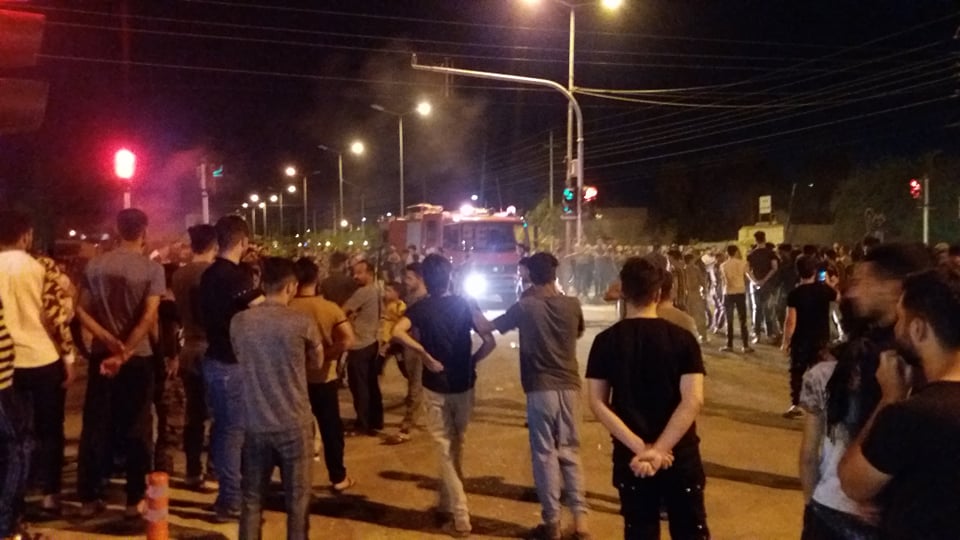 Jalal added that, "we know that the virus is real and dangerous, which requires us to protect ourselves, but it cannot be done this way and it requires income. All the economic sectors are halted and there are no jobs."
The security forces arrested 10 protestors and dispersed them when they started burning tires and blocked a main road in the town. Later in the night, they were released.
A source from the police department in Kifri told KirkukNow that, "the protestors don't want to comply with the medical instructions and the curfew. We let them protest in the first night, but in the second night they burned tires and tried to raid and burn the government's buildings.  That is why tensions increased."
The source claimed that those who were arrested were not "the rioters," adding that they still are seeking to arrest the "rioters."
Meanwhile, unknown gunmen fired at the headquarter of the Kurdistan Democratic Party (KDP) in Kifri, and a bomb exploded on a street, as well, but the perpetrators are yet to be known.  
"We told the people that if they want to protest, we will issue official authorization for them to conduct demonstrations on the condition that they have to be peaceful. However, they have not submitted any request to organize demonstrations, which is considered as causing disorder," the source added.
According to the Law Number 11 of 2010 for Organizing Protests in the Kurdistan Region-Iraq, demonstrations are not permitted unless an application for a license is submitted 48 hours in advance and includes the names of the organizers, their signatures, the location of the protest.
Kifri is a disputed district between the KRG and the federal government. The town, howeer, is under the jurisdiction of the KRG