In the garden of a house in Grozir sub-district in Sinjar, a mass grave was found that is suspected to contain corpses of four victims killed by the Islamic State groups (IS), even though relevant authorities are yet to start investigations.
On June 28, an Ezidi family found a mass grave in the garden of their house after cleaning it for their return.
"Some relatives and I went to Grozir to clean our house. We started from the garden… when we removed rubbles, corpses of human emerged," Khairo Saido Khdr said.
Khdr said that they have found that there is more than a corpse in the garden, adding that as far as they learned, there are four corpses.
"There was not any ID, but the clothes of the victims indicate that they are from the area and had been shot to death during the IS attacks," Khdr claimed.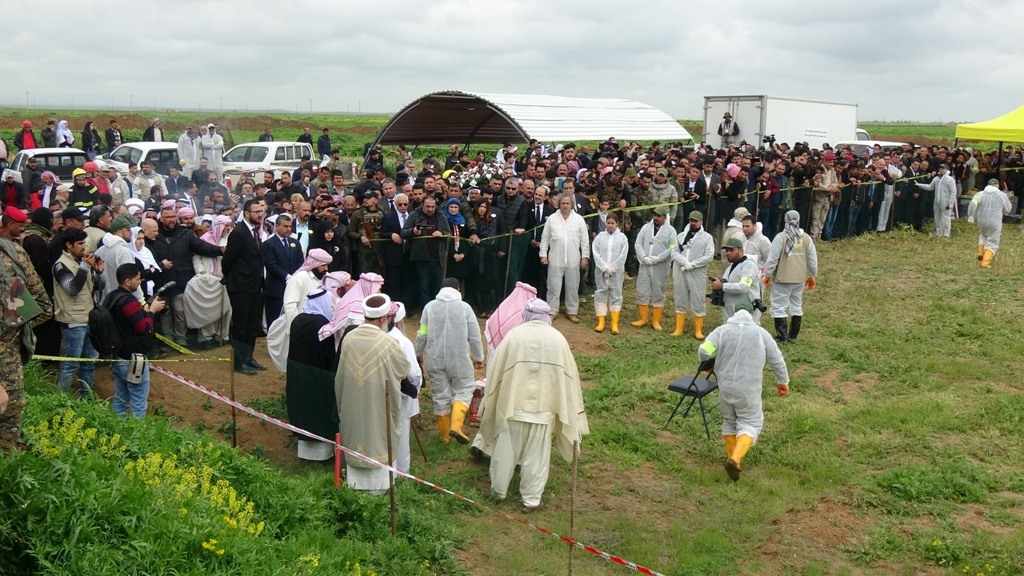 Khdr's family suspect that the four corpses are their relatives, especially three women and a man who have disappeared since the IS attacks. The names of the four persons are Wthan Darwish, Basi Khdr Hussein, Ayshan Khdr and Sharo Hussein whose ages ranged from 60 to 90 years old.
The IS took control of Sinjar on August 3, 2015 and "massacred" many Ezidis in Kocho village in Sinjar. Two thousand and 293 Ezidis were killed by the IS, according to a data of the Ezidi affairs directorate at the Kurdistan Region's ministry of religious affairs.
The same data show that 80 mass graves have been found in Sinjar, despite many single graves that date back to the era of the IS rule in the district.
Khairi Ali, head of Ezidi Organiztion for Documentary, told Kirkukow that, "the mass grave that was founded contains four corpses of four members of a family based on our collected information."
Ali added that fence has been put around the mass grave until a special team arrives to investigate the corpses.
The excavations of mass graves in Sijnar have been halted for several months and it is unknown when it will resume due to the novel coronavirus.
Jalal Khalaf, the commissioner of Grozir sub-district, said that, "the mass grave is in a house in the center of the sub-district and we still do not know how many corpses it contains because neither any organization nor any team has visited yet."
Khalf claimed that there might be four corpses of a family in the mass grave based on people's assumption, but they do not allow people to visit it until special time is sent.
The excavation of the Ezidi mass graves started in Kocho village on March 15, 2019 at the order of the Iraqi government. After digging up corpses of 364 victims in 17 mass graves, the corpses were transferred to Baghdad for DNA tests. However, they are yet to be returned to Kocho and to be buried in the village due to the coronavirus.