Two separate demonstrations were held yesterday by members of the Ezidi community; one in support of the agreement between the Iraqi government and the Kurdistan Regional Government regarding the situation in Shingal and the other against it.
Both of the demonstrations were held yesterday (8 November 2020). The one against the agreement was held in Shingal, and the other Duhok by IDPs residing in the camps.
Salim Badal, an activist at the Shriya camp, told KirkukNow: "The demonstration was against the presence of the illegitimate forces in Shingal district."
IDPs from the four camps in Duhok (Shariya, Kabartu, Isiyan and Khanké) took part in a demonstration.
"We want all the illegitimate forces to leave Shingal, so that the IDPs can return home without fear," Badal said.
The Kurdistan Regional Government and the Iraqi Federal Government signed an agreement on 1 October to form a new administration and to reorganize the security oversight for the district.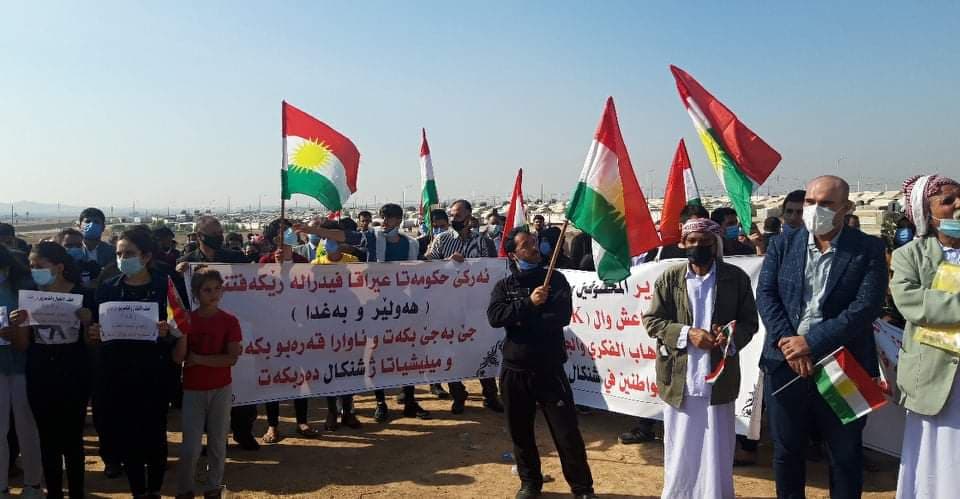 The other demonstration was held in Shingal town by residents who oppose the agreement.
In a statement read by the demonstration organizers, their demand is to be included in the decision-making process.
The statement also calls for the recognition of the self-administration in the district, and for security to remain in the hands of the people of the district, especially those forces that had a role in liberating it, which include PMF (aka Hashd al-Sha'bi) and the Ezidi militia Shingal Protection Units.
The protestors in Shingal also object to the return of those forces they say abandoned the people of the region in 2014 when ISIS attacked and took control.
According to the content of the agreement between Baghdad and Erbil, a new mayor will be installed for the district of Shingal, and the administrative posts will be put under evaluation for potential replacements.
The agreement stipulates that the Federal Police, Intelligence Agency and National Security Apparatus with cooperation with Kurdistan Regional Government Security Forces, will be put in charge of the security of the district. And that 2500 security personnel to be recruited from people of Shingal: 1000 from the current residents of Shingal, and 1500 from IDPs.
The district of Shingal currently has two mayors: one of them is Mahma Khaleel (KDP) who resides in Duhok since the events of 16 October 2017 (when Peshmerga Forces were expelled from the disputed areas in the fallout of the independent referendum held by the Kurdistan Regional Government); the other is Fahd Hamid who was appointed mayor by a temporary council.
There are currently more than five different forces in the district, among them the Popular Mobilization Units (a coalition of Shi'a militia known as Hashd) and the Shingal Resistance Units (YBŞ; an Ezidi militia formed by PKK affiliates to fend off ISIS attacks), Internal police, Iraqi army and Ezid-Khan Peshmerga.
The district of Shingal is located about 120 km west of Mosul in Nineveh province. It is considered part of the disputed areas according to the Iraqi constitution.