A boy enslaved by the militants of the Islamic State in Iraq and Syria ISIS in 2014 was found in al-Hol camp in northern Syria and integrated into his family in an Internally Displaced Persons IDP camp in Duhok northern province.
Ardawan Muhsin Khidir, now 15, has been rallied with his family on May 25th, following seven years of slavery by ISIS militants.
Muhsin Khidir, father of Ardawan, was thrilled to find his son. He lives in an IDP camp for Ezidis in Duhok.
"I do thank all people cooperated to free my son from al-Hol camp. They told us to go to Shingal and in the evening of May 25th we embraced him again after seven years of separation."
"I do thank all people cooperated to free my son from al-Hol camp."
The extremist militants of IS stormed the district of Shingal, home to hundred thousands of Ezidis, adherents of an ancient religion accused of being devil worshippers, has committed atrocities mounted to genocide.
Thousands of Ezidi women, girls and kids were enslaved and taken as sex slaves. Ardawan was one of those captured and went missing.
Khidir has got six kids. Still his wife and two daughters are missing following invasion of shingal by IS in 2014.
The Eizid community was estimated at 500,000 population ahead of IS reign, mainly based in Shingal district, center of the Eizidi region in Mosul and Shekhan disrict in Duhok.
To flee execution and slavery, over 350,000 Ezidis walked to Shingal Mount and the Northern Kurdish region. 100,000 fled the country forever heading to Europe, USA and Canada.
Shingal district west of Nineveh on the border with Syria, was retaken by Iraqi forces in October 2015 yet up today most of its inhabitants live under tents in the IDP camps of Bersivi, Kabartw, Isyan and others in Duhok, Erbil and Sulaymaniyah.
 Over 3,000 Ezidi women, girls and children were freed while nearly 3,000 kidnapped women and girls are still missing after many were trafficked and enslaved in other parts of former IS territory.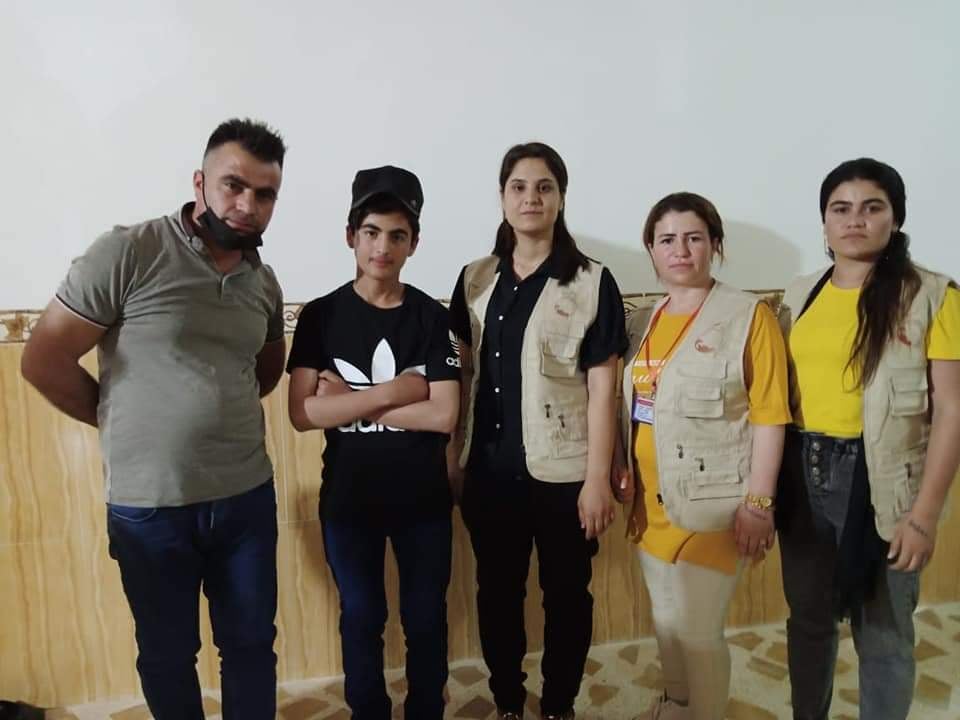 Khidir was not concerned who freed his son and where to meet as much as he was worried about finding the beloved member of his war-torn family.
Ezidi seniors accuse Kurdish forces in Syria like Syria Democatic Forces SDF close to PKK of keeping Ezidi survivors of IS for a period of time for investigation.
 "We thank anyone who rescues Ezidis and call on the Asayish (Kurdish security) in the west (Kurdish region of Syria) that any one rescued to be handed over to his family as soon as possible."
Jawhar Ali Beg, deputy of the Ezidi Prince for media and relations, said the rescued Ezidis are kept in some cases from 1-2 weeks then handed to their families.
"The forces in the west were not ready to deliver this teenager to office of survivors in Duhok yet did it via Shingal Struggle Units (YBSh)," a group close to PKK in Shingal.
YBSh is a group said to be cloe to Kurdistan Workers Party PKK, a group fighting Turkey and holding territories in Iraq.
The PKK affiliated group secured a corridor for rescue of Ezidis escaped ISIS to Shingal Mount in 2014 and from there to the adjacent Kurdish region.
Locals joined the group and now they are about 1,000 fighters called Ezidkhan Asayish supporting the autonomous administration.
"YBSh asked family of Ardawan to go to Shingal instead of Duhok so that th achievement is made under name of YBSh," Ali Beg said.
"YBSh asked family of Ardawan to go to Shingal instead of Duhok so that th achievement is made under name of YBSh," Ali Beg said.
Khidir said he is against pushing the issue of Ezidi survivors of IS into politics. "The forces in the west might say it is ok to keep the freed Ezidis but even one moment matters for us in order to unite with our kids."
Since the military defeat of IS, discord over security arrangements, public services, and the lack of a unified administration, have plagued victims and survivors.
Baghdad, Erbil and pro-PKK groups compete over running the Ezidi region and undertaking its security.
Mahmood Rasho, in charge of tracking enslaved Ezidis, of House of Ezidis in Syria, told KirkukNow they found Ardawan on May 18th by Rojava Asayish, security of the Kurdish forces in al-Hol camp.
"He was found and rescued. Any one freed is kept at the house of Ezidis for few days for relaxation. Then his data is reported to relevant authorities and contact his family. All of this takes a short time," Rasho said.
"Sometimes we find other people via a rescued Ezidi yet we never keep any one deliberately. On the contrary, we try to unite them with their families as soon as possible."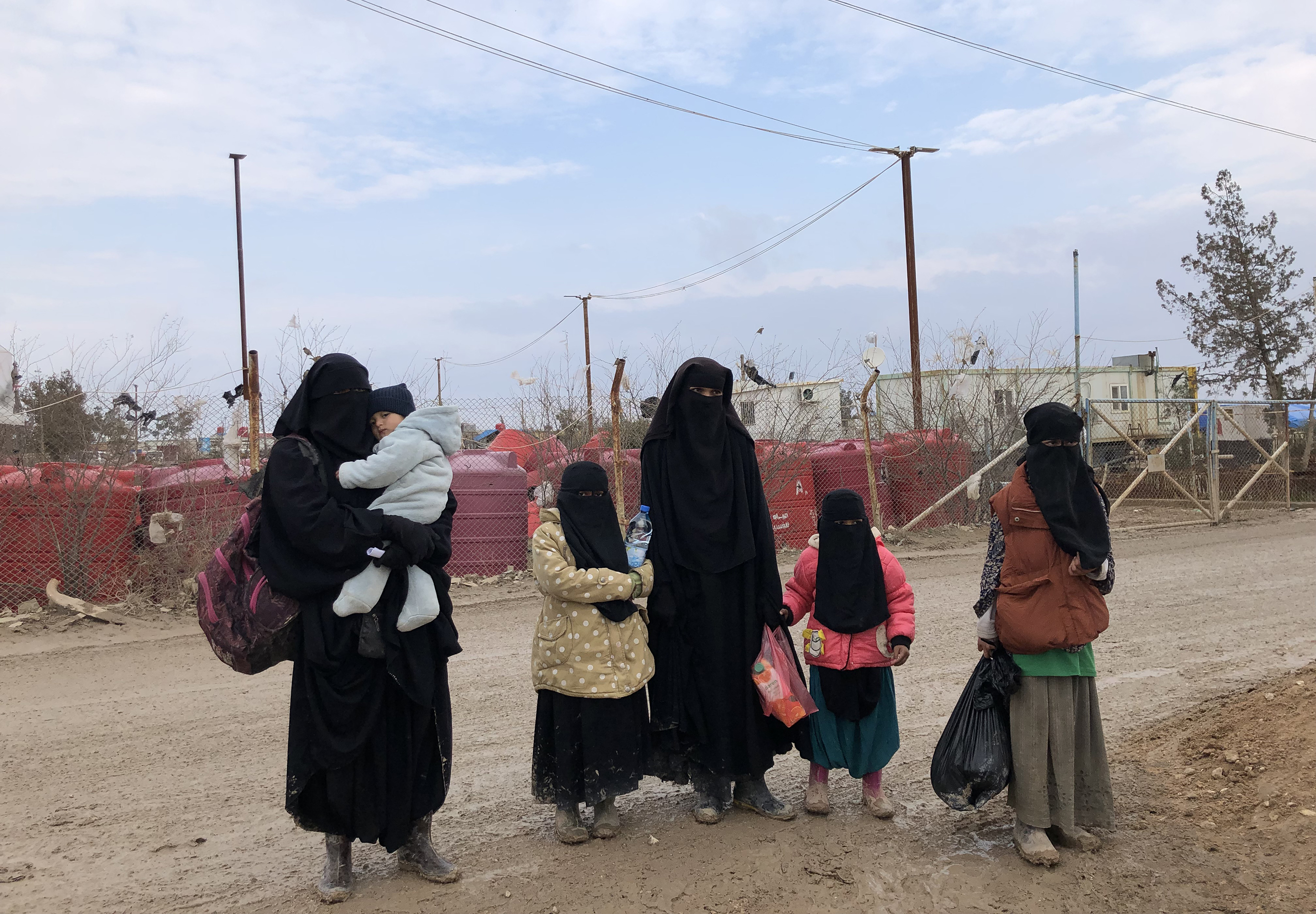 Rasho said Ardawan was handed over in Shingal not in Duhok due to security reasons.
Al-Hol camp in Syria where Ardawan was found is one of the biggest camps, east of al-Hasaka, home to 72,000 people, mainly families of Iraqi, Syrian and foreign militants of IS.
The complex texture of the security and administrative situation in Shingal is an aftermath of ISIS reign In the Ezidi-dominant region of Shingal, only three thousand square km, Baghdad federal and Erbil regional governments compete to establish their rule: three local administrations want to administer the district, and eight different security forces are deployed, some loyal to Baghdad, others to Erbil.
The militant groups are Iran-backed Shiite Popular Mobilization Forces PMF, Shingal Protection Units (YBSh) and Ezidkhan Asayish which are pro-PKK (Kurdistan Workers' Party fighting Turkey and controlling some regions in Iraq), local Police, Iraqi army, Ezidkhan Peshmerga and KRG's Peshmerga (Kurdish fighter).
Currently, Shingal district has two mayors, one in Duhok and another in Shingal.
The pro-PKK forces also founded Autonomous administration downtown in Shingal supported by thousands of militants. The pro-PKK groups claim they have taken part in liberation of Shingal from IS and all their members are locals of the Ezidi community.