The local authorities have responded to the calls of the IDPs in Sharia camp whom lost their tents by Friday huge fire to replace it with concrete houses.
A fire intrigued by electrical short circuit has swallowed 300 tents for 187 families left homeless and lost their entire household in Shira camp for Ezidi Internally Displaced People IDPs on last Friday.
Karwan Zeki, media manager of Joint Crisis Coordination Center JCC, oversighting the affairs of the IDPs in Kurdistan region, told KirkukNow the committee formed following Friday fire has discussed the demands by the IDPs whom lost their tents to replace it with concrete walls to save them from frequent incidents of fire.
"We have decided to approve their requests."
 The committee embraces administration of Duhok province, Ezidi Mir (Prince), JCC, and NGOs.
"In the first phase, permission is given to those families whose tents were burnt and damaged," Zeki said. The next stage is to remove all tents and build walls by cement blocks.
Sharia Camp in Sumel District for Ezidi IDPs is home to 2500 families, 20 km far from the center of Duhok province.
JCC data published in May shows over 600,000 IDPs and migrants live in tents in Kurdistan region, 30% of them are from the Ezidi ethno-religious minority accused by the extremist militants of being heretics and devil worshippers living in 26 camps for IDPs and 10 for the migrants.
Currently Barzani Charity Foundation BCF has installed tents temporarily for those families until the plan for the site is done, Zeki added.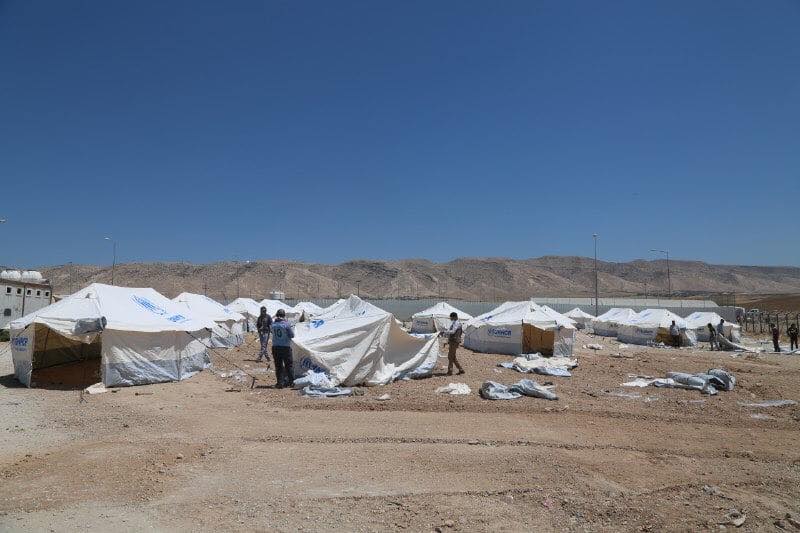 The regulations for building concrete houses currently covers lost families of Shaira and no any other camp is covered in the new plan, JCC media manager said.
Pir Alo Kachal, mamager of Khanky camp in Duhok, told KirkukNow, "building concrete houses has not been issued formally for all camps but still 85% of the IDPs in our camp have built the walls by blocks as land owner showed no objection to use it then remove it before departure."
"Building concrete houses has not been issued formally for all camps but still 85% of the IDPs in our camp have built the walls by blocks."
The Iraqi government has shut down all IDP camps all over Iraq except Kurdistan region.
Baghdad accuses the Kurdistan Regional Government KRG of impeding the voluntary return of the IDPs for political reasons.
"IDP camps to be shut end of the year as IDPs issue is a key and important human not political dossier," said Hassan al-Ka'abi, the first deputy of Iraqi parliament speaker to minister of migration & the displaced in a meeting on Sunday, Iraqi parliament portal reported.
"The government, parliament, KRG, & the international players have to coordinate in order to handle Shingal issue," Al-Ka'bi added.
Out of 0.5 million population, over 350,000 Ezidis fled Shingal in August 2014, in fear atrocities by the so-called Islamic State in Iraq and Syria ISIS amounted to genocide, to the adjacent Kurdistan region and Shingal Mount.
About 100,000 migrated to Europe, USA, Canada and Australia and over 100,000 are yet living in IDP camps in the Kurdistan region IDP camps.
"Changing tents into cement blocks diminishes fire incidents and the damage it causes once happens," Kachal added.
Two Ezidis migrants living abroad have donated 600 house plots for Ezidi IDPs living in camps to build houses once they are willing to return home voluntarily following the fire in Shaira camp last Friday.
Sharia fire is not the first in the IDP camps this year. Over 25 cases of fire have been registered in the camp of Bersiv in Zakho district of Duhok Northern Province.
Two weeks ago, a report by KirkukNow has shown that deployment of fire brigades in camps reduces fire risks and losses to half. Relevant local authorities said their capabilities are limited.