One of the leading Kurdish parties has decided to exclude one of its candidates to Iraqi parliament in the province of Kirkuk while the electoral commission denies any changes following the deadline for registration and withdrawal or exclusion.
A senior member of Patriotic Union of Kurdistan, PUK, said Politburo has decided to exclude Alla Talabani, a senior member of PUK membership and member of Iraqi parliament representing Kirkuk following the late feuds between the co-presidents of PUK.
Alternatively, PUK is planning to lead a media campaign in favor of Dilan Ghafour, a member of PUK and MP of Iraqi parliament from Kirkuk.
Ghafour has been registered by the Independent High Electoral Commission IHEC as an independent candidate.
"PUK has decided to exclude her (Talabani) from Kurdistan alliance as a nominee of PUK yet we will hold further meetings in the coming days to determine how as it has to do with the commission as well," PUK leader anonymously told KirkukNow.
Talabani is sister of Mohammed Hussein Talabani, former head of PUK intelligence service, and supporter of PUK co-President Lahur Talabani, cousin of late secretary general of PUK and Iraqi president Jalal Talabani.
On July 8th, Mohammed has been detained for hours and replaced by Bafel Talabani, elder son of Jalal Talabani, and co=president of PUK.
Bafel Talabani has replaced heads of intelligence and counter terrorism service early July and filed lawsuit against his counterpart Lahur Talabani accusing him of spying, corruption while the latter has passed his power to his cousin "temporarily."
"Alla is excluded because she is not available in Kirkuk as required and has not worked for Kirkuk like other partners so we support Dilan Gahfour," the PUK leader added.
PUK and Gorran Movement has formed an alliance called (Kurdistan Coalition) for October 10th parliamentary elections.
Out of 12 parliamentary seats for Kirkuk province, the patriotic Union of Kurdistan, PUK, a leading Kurdish party won 6 seats in Kirkuk province 2018 elections, three seats for each Arab and Turkmen communities and one quota seat for the Christians.
Kirkuk, located 238 kilometers north of Baghdad, is an ethnically mixed province for 1.2 million Kurds, Turkmens and Arabs. It has long been at the center of disputed territories between Baghdad and Erbil.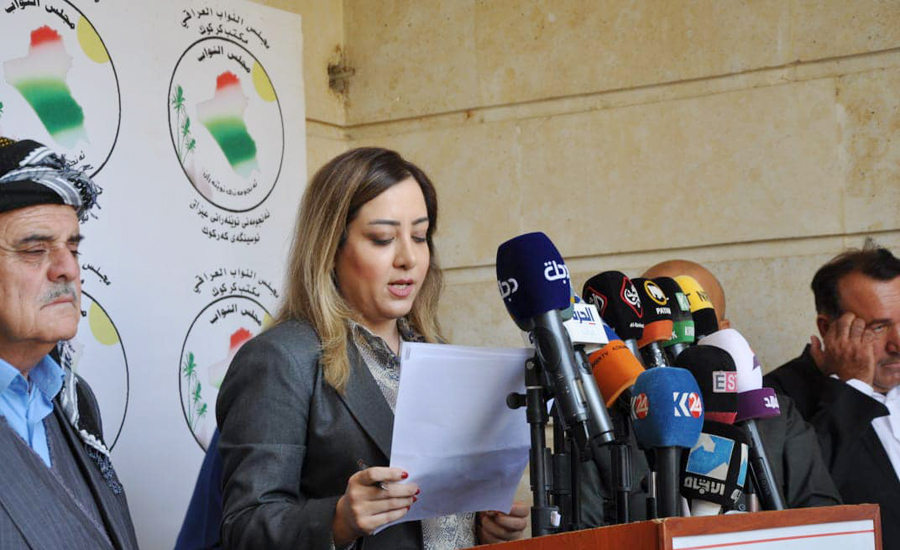 Ghafour has nominated herself independently in the first electoral district of Kirkuk without PUK permission while her father is deputy of the head of PUK head office in Kirkuk.
"We are not sure how the electoral commission will deal with this case so we will meet to discuss how to find a way for it," the PUK leader added.
KirkukNow has contacted Ghafour, Talabani and head o PUK in Kirkuk but none of them responded.
A member of IHEC on the condition of anonymity said the parties can't replace their nominees as they have been registered and given numbers and media campaign already launched.
"No candidate can withdraw unless himself leads no campaign and is out of the race."
Individual candidates can join coalitions and alliances post elections. He added.
The new electoral law ratified last November, a key demand of October 2019 demonstrators, changes each of the country's 18 provinces into several electoral districts in order to prevent parties from running on unified lists, which has in the past helped them easily take all the seats in a specific province. Instead, the seats would go to whoever gets the most votes in the electoral districts.
The 329-member house of representatives was elected in May 2018. The vote is held every four years, but the protesters have been demanding early elections. The 12 seats of Kirkuk Northern Province are divided over three electoral districts.