A delegation of Christian Churches of Iraq visiting Rome met Pope Francis on Monday on the occasion of the first anniversary of his Apostolic Journey to the country last March 2021, Vatican news reported.
Syriac Orthodox Archbishop Nicodemus Daoud of Mosul and East Assyrian Bishop Abris Youkhanna of Kirkuk and Diana, both members of the delegation, expressed deep gratitude to Pope Francis for his historic visit to Iraq.
Archbishop Daoud highlighted the positive impact of the Papal visit on interreligious relations in Iraq, particularly on the attitude of Muslims towards Christians.
Bishop Youkhanna assured Pope's March trip has given a "new impulse and light" to dialogue in Iraq.
"Dialogue is made up of human relationships that constantly reminds us that we are all children of God, and therefore brothers", Bishop Youkhanna said.
In his address to the delegation, the Pontiff recalled that Iraq is the cradle of civilization and of Christianity.
The Holy Father affirmed Christians are an essential component of Iraqi society. "Iraq without Christians would no longer be Iraq, because Christians, along with other believers, contribute strongly to the country's specific identity as a place where co-existence, tolerance and mutual acceptance have flourished ever since the first centuries."  
On the first ever papal visit to Iraq & his first international 3-day trip since the start of the corona virus pandemic, the pontiff has landed in Baghdad on March 5th and left on March 8th.
He has met Iraq's senior Shia Muslim cleric Ali al-Sistani in Najaf, led an inter-religious dialogue in Ur, home of prophet Abraham, met the Christian community in the Nineveh plains and finally led a mass prayer in Erbil stadium in the capital of Iraqi Kursitan Region IKR.
On March 7th, the Pontiff recited a prayer for the victims of war at the ruins of the Syriac Catholic Church of Hosh al-Bieaa (Church Square).
He highly praised the Iraqi Churches for their fraternal relations to establish "many links of collaboration in the field of pastoral care, formation and service to the poorest." He further encouraged them to "continue along this path, so that, through concrete initiatives, constant dialogue and, fraternal love, progress may be made towards full unity"
"In the midst of a people which has suffered so much division and discord, Christians will shine as a prophetic sign of unity in diversity."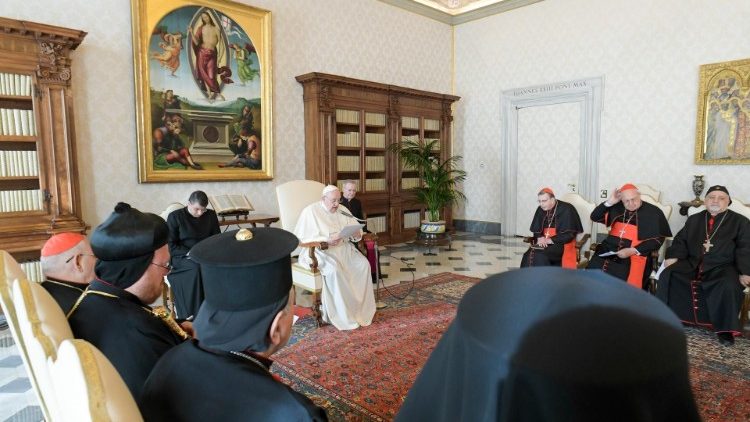 In last March trip, Pope expressed his sadness for the brutal tragedy Nineveh, cradle of humanity, faced. He called on the locals to return home and reconstruct their hundred years hometowns.
Almost four years following the declaration of ISIS defeat by the Iraqi government in 2017, large parts of Mosul, center of Ninewa province, mainly the Old City, still lie largely in ruins, due to poor funding, chronic mismanagement, corruption and political disputes.
He noted fundamentalism can be eradicated only through addressing its root causes, which include "material, cultural and educational poverty and situations of injustice and vulnerability".
Between June 2014 and July 2017 Mosul was occupied by the Islamic State. An estimated half a million people, including more than 120,000 Christians, fled from Mosul, which had a population of 1,846,500 in 2004.
Two decades ago, Iraq was home for over 1.5 million Christians, 3% of Iraq's population falling to 800,000 in 2003 following gulf war. They are mainly living in the provinces of Baghdad, Nineveh, Duhok, Kirkuk and Erbil. Latest figures say currently only 250,000 to 500,000 Christians are living in Iraq.
Pope Francis concluded his address calling on Iraqi Christians not be discouraged and to continue invoking the Spirit of Jesus.
Iraqi Kurdistan regional government KRG statistics showed that out of almost 700,000 IDPs in 26 camps, over 7% are Christians.
Tens of thousands were forced to desert their homes when Islamic State (IS) militants overran northern Iraq in 2014, destroying their houses and historic churches, and forced them either to pay a tax, convert to Islam or leave.
Over 24,000 Christian families from Mosul have migrated to escape the violence that has plagued the country when Saddam Hussein regime was ousted in 2003.