"I asked my husband why you come home so late every night, you have a wife and children, you are supposed to take care of us too." This question by Runak Ahmed, 24, led to a "violent altercation" with her husband. "It went worse to (verbal) insults and then beating."
The history of this incident dates back to a year ago. Runak says it was not the first time that her husband came home late. "He used to come back late and drunk every night. He would respond to me with insults and abuse when I asked him where I was. He would raise his voice and shout at my face is in front of the children's eyes to keep me silent," she recalls. "It came to the point that he assaulted me, so I could not continue in this life."
Runak Ahmed, a pseudonym for a woman from the city of Kirkuk, married four years ago and was a housewife. Last year, she filed a case in court against her husband and broke up with him, and now she lives with her two daughters.
After her separation from her husband, the issue of securing a living for her two daughters became the biggest problem that bothered her, so she learned tailoring and a charity organization bought her a sewing machine.
It came to the point that he assaulted me, so I could not continue in this life
On March 8th which marks International Women's Day, she participated in the event of the Iraqi Al-Amal Association for Human Rights - a non-governmental organization - represented by a sports competition. The aim of the event was to show the role of women who turned their tragedies into success stories.
"My separation from my husband was to save myself from the physical torture since my family and relatives did not care about me and thought that it was better for me to shut up and not argue with my husband," Ronak continued. "My family was poor, when I used to leave my husband and go back to my parents' (following quarrels with her husband), they used to take me back to my husband's every time, so (finally) I made that decision."
She is one of dozens of women who took part in the event organized by the Iraqi Al-Amal Association, all tasted the bitterness of verbal and physical domestic violence.
Currently, she works as a dressmaker with the help of organizations and earns a living for herself and her daughters. She is now independent and has survived violence and humiliation.
 Runak believes that it is necessary for husbands to respect each other, but "when it comes to violence, they must find other ways and disengage themselves," citing the stories of dozens of women who participated with her in Women's Day activities.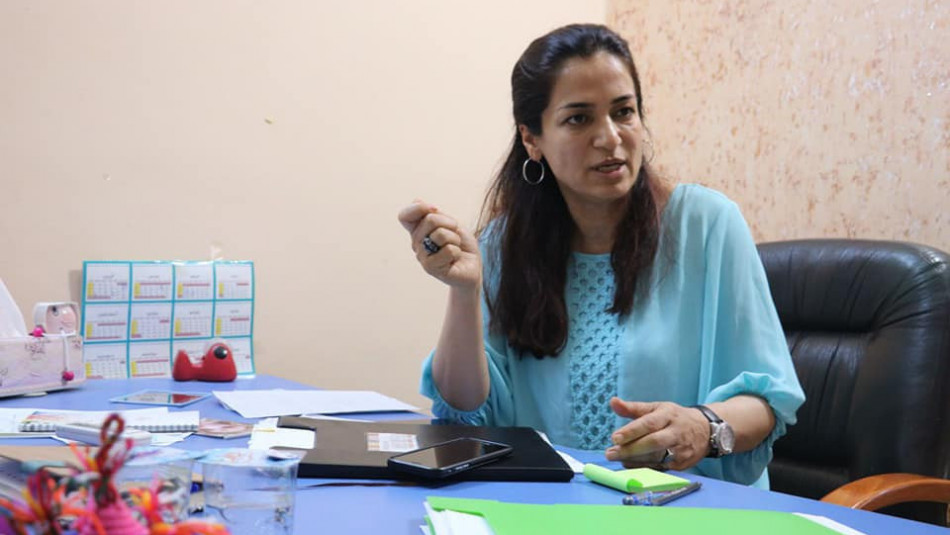 Siroud Ahmed, manager of Kirkuk branch for the Iraqi Al-Amal (Hope) Association for Human Rights, told KirkukNow, "Our efforts are focused on empowering women to express their pain and mobilize their issues and not be silent and give in to the bitterness of reality."
"From this standpoint, we were able to turn dozens of painful cases of women who have been subjected to violence into stories of success. The oppression of women does not mean the end of life. Women must be leaders and not give up."
According to statistics obtained by KirkukNow from the Kirkuk police, 149 cases of domestic violence were recorded during the first two months of this year in Kirkuk, 122 of which were committed against women.
According to statistics obtained by KirkukNow from Kirkuk Police Command, last year nearly 500 cases of domestic violence have been officially registered including quarrels between husbands, marital betrayal, child custody and others.
"I challenge that there is no woman in this society who does not have a case of violence, if violence is not committed against her at home, then she is exposed to it by society or in government institutions, but the matter must be addressed, by improving laws and issuing a special law and forcing the government to implement it," Ahmed says
I challenge that there is no woman in this society who does not have a case of violence, if violence is not committed against her at home
Since the beginning of this year, 16 women and girls have been killed in Kurdistan Region of Iraq under the excuse of "honor or social problems", including Eman (Maria) Sami (20 years), who was killed by her brother in Erbil, and Shinyar Anwar (21 years), who was killed by her husband in Sulaymaniyah.
Statistics from the General Directorate for Combating Violence against Women and Domestic Violence indicate that 24 women were killed in the Kurdistan Region last year, in addition to the registration of 62 cases of "suicide" and more than 78 cases of "self-immolation."
On August 4, 2020, the Iraqi Council of Ministers approved a law against domestic violence and referred it to Parliament, which has not yet ratified it due to the disagreements between parliamentary blocs on a number of items, including those related to the punishment provisions for perpetrators of domestic violence.
The draft law consists of 21 articles and penal provisions, the aim of its issuance is to comabt violence.
According to the draft law, a department called the Family Protection Directorate is to be formed in the Ministry of Interior, in addition to the formation of a specialized court to investigate domestic violence cases.
The penalties stipulated in the draft law against perpetrators of domestic violence are fines of no less than three to five million Iraqi dinars (USD2,000-3,400) or imprisonment for a period of not less than one month and not more than a year.
The draft law against domestic violence provides for the opening of centers and shelters in Baghdad and other provinces to receive and protect victims of domestic violence.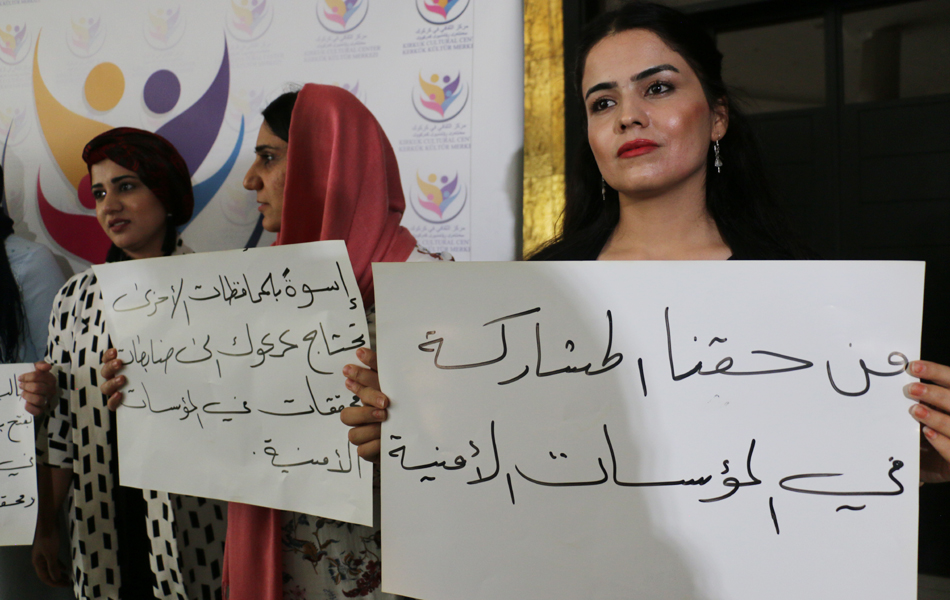 The efforts of the Iraqi Council of Ministers came after a poll conducted by the Department of Women's Empowerment in Iraq - affiliated with the Secretariat of the Council of Ministers - showed high rates of domestic violence in the provinces of Kirkuk, Dohuk and Ninewa.
In the poll, which included 11 Iraqi provinces, 123 women indicated that they had attempted suicide due to pressure and domestic violence.
Yusra Rajab, a deputy in the previous session of the Iraqi parliament, earlier told KirkukNow "the draft law has not yet reached Parliament, but we find some are standing against it. There are many who claim that it degrades the dignity of men, reduces the prestige of fatherhood and they say it goes against the principles of Islam."
The bill has not been approved yet and it is not clear whether the current parliamentary session will make efforts in this direction, at a time when members of Parliament are busy with the issue of electing the President of the Republic.
"This hostility to the draft law is not only linked to religion, sect or gender, but what we see is that patriarchy is completely dominating the secular MPs as well. They also view the issue with the same beliefs and reject the draft law, even some women stand against it."
"The issues of violence in Iraq is soaring up and the laws have not been able to reduce the rates of violence, so it is necessary to apply pressure," the head of Al-Amal Association in Kirkuk demanded.