An investigation by KirkukNow has won first prize in the annual competition for the best report on human rights.
The competition was dedicated to the best journalistic reports related to human rights in 2022, after evaluating dozens of articles submitted by journalists, on Saturday December 10, in a ceremony in Kalar district of Garmian administration of Sulaymaniyah Northern Province.
The Firs tprize was awarded to Ammar Aziz for the story Samira and Zhina: Victims of Deception.
The investigation tells the story of an IDP girl who was deprived of education due to lack of identity, living with her mother suffering from mental and psychological disturbance due to marriage without official records and documents.
The second prize went to Aran Najat of Kurdish News Network KNN, for his article "House of Juveniles: Light for the Orphans of Town."
In the same competition, the third prize went to Fazel Rafat from Drwmedia for his report "A Pearl in the Mud of Life."
Video: Speech by Ammar Aziz at the awards ceremony for the best journalistic article on human rights
Azad Osman, director of Radio Deng, who supervises the competition, said that 31 journalists participated in the competition with 31 reports from different parts of the (Iraqi) Kurdistan Region.
He also explained that competition is one of the most important pillars of journalism to encourage the production of genuine stories and support for free journalism.
The Human Rights Journalism Competition has been running for seven years: 61% of the participants were male, 39%were female, over half of the reports and follow-ups were written while 45% were video reports.
The competition was organized by Radio Deng, an independent radio station in Kalar, with the support of the National Endowment for Democracy (NED), a non-profit organization founded in 1983 that aims to promote democracy around the world.
Previously, the reports and investigations of KirkukNow reporters for 2017, 2019, 2020 and 2021 have won first to third prizes in the same competition for the best reports related to human rights.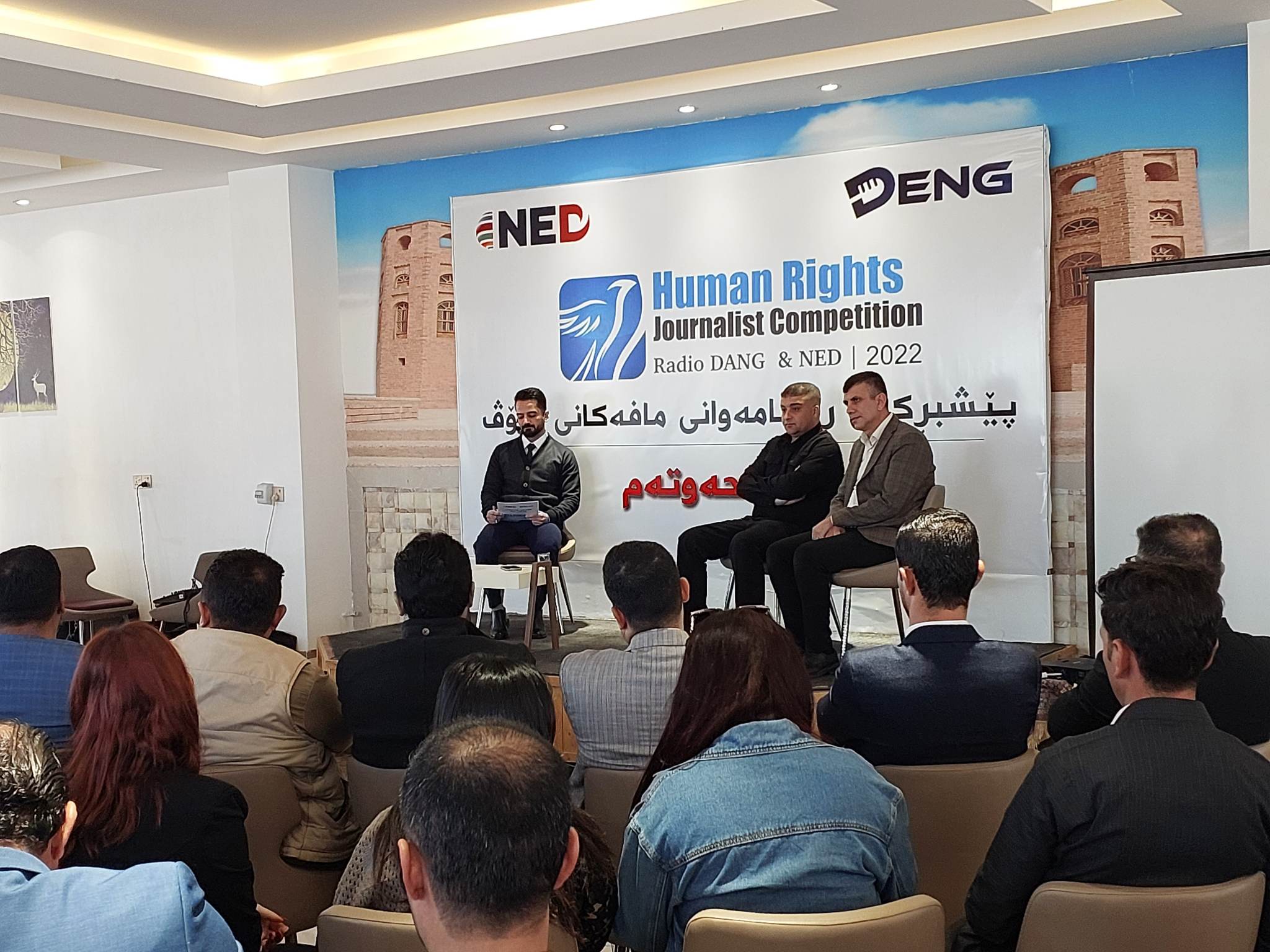 In 2020, KirkukNow won the Most Progressive Media Outlet award in a competition organized by Internews International for Iraqi media outlets covering women and gender issues in society.
KirkukNow is an electronic news website that focuses on publishing events and issues that occur in the geographical boundaries of the "disputed territories", or related to the geographical boundaries, in order to promote peaceful coexistence in this border and easy access to information.
KirkukNow was established in 2011 and publishes articles in four languages: Arabic, Kurdish, Turkmen and English.