Ghazi Obeid is in front of two options; Either see his camels die due to the effects of climate change on their areas or have to migrate, so he is obliged to choose the latter.
Obeid has been grazing camels in a green area of Duhok province for more than a year after leaving his hometown of Ba'aj district of Nineveh province.
"There is a drought in our areas, there is no pasture and water, so we have moved to Duhok, where there are weeds and pasture, a suitable place to graze our animals," he told KirkukNow.
Obeid lives in Ba'aj district (southwest of Nineveh). Their business has been livestock since their ancestors, especially camels, and now has about 70 heads, of which he has taken only 12 camels to Duhok, along with 250 sheep.
"We haven't been here for a long time. At first we brought a number of camels. We thought they might not be able to live here, which is a mountainous area, unlike Ba'aj, which is plain and desert."
Now the camels of Obeid freely graze in Duhok mountains.
"We were forced to head to Duhok since we were afraid our animals will die due to lack of vegetation and water."
He went to the village of Bajlur, seven kilometers east of Duhok, where several other livestock farmers from the Nineveh region are deployed.
There were 22,000 camels in Ba'aj alone, which has now dropped to half
According to the United Nations UN statistics and warnings; Iraq is the fifth most affected country by climate change, with water shortages, droughts, extreme temperatures and other natural disasters.
"Our areas were the best places to raise camels. Before the drought and the consequences of climate change, there were 22,000 camels in Ba'aj alone, which has now dropped to half," Khalaf Khashe, director of agriculture in Ba'aj district, told KirkukNow.
He says the best areas for camel breeding in Nineveh were Ba'aj, Rabia, Tel Abta and Hazar, as they have a large area of plains and deserts and used to have trees, which are the main source of food for camels.
"There is little water, pasture for the animals has decreased dramatically, and worst of all, the government does not provide any assistance to the owners, so the owners are forced to either sell their animals or migrate," director of agriculture in Ba'aj district added.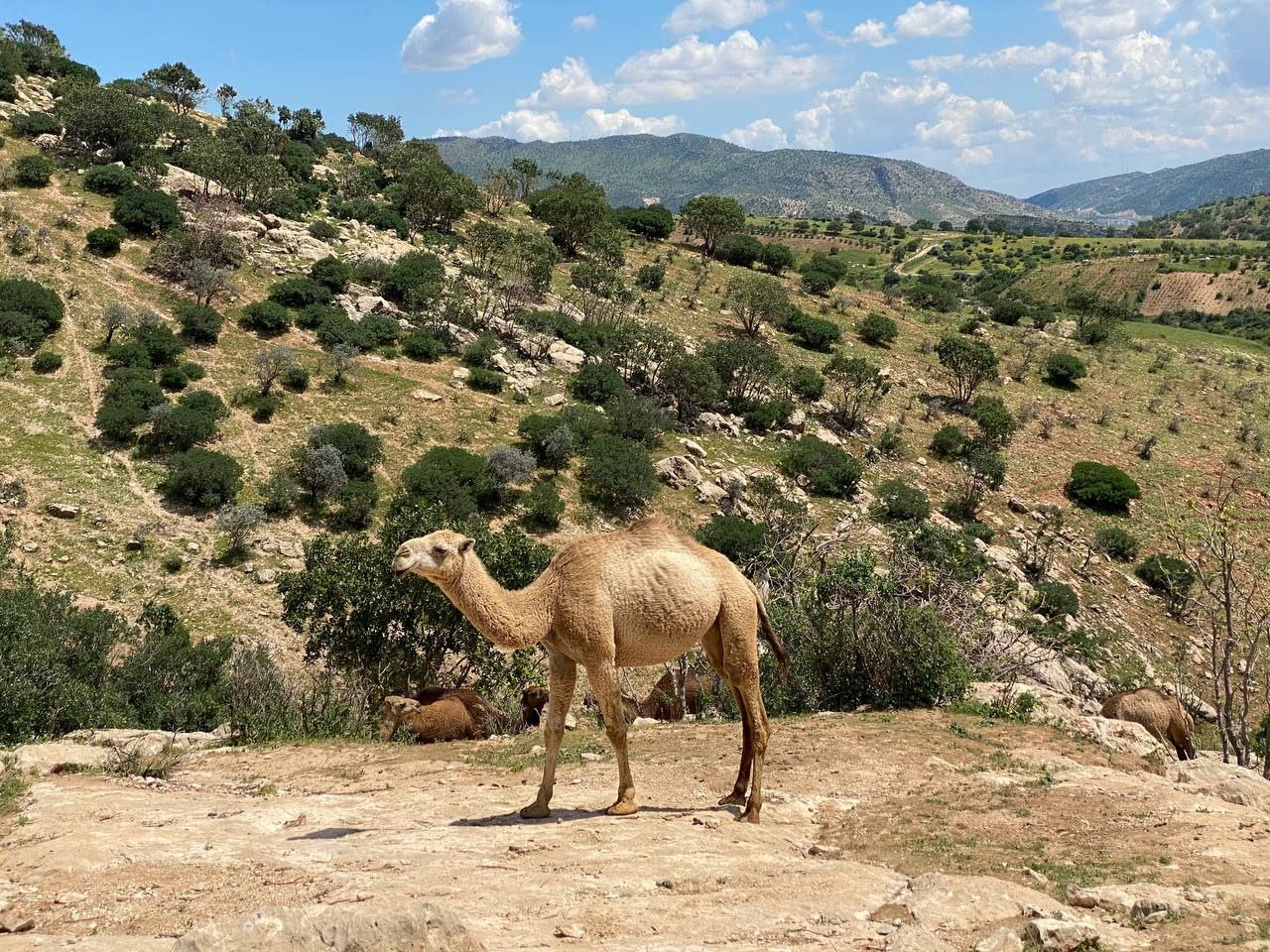 More than 20,000 people have been forced to flee Iraq by the end of 2021 due to water shortages, according to the United Nations.
Before moving to Duhok, 37 camels of Obeid died in Ba'aj. There are still 21 camels left there. If allowed, he will take them all to Bajlur village.
"I pay three million Iraqi Dinars (USD3,000) per year for the pasture. Some other people headed to Ramadi (west) and Karbala (middle)," he added.
"We have been the victims of climate change more than anyone else without the government's help," he said.
Almost 40% of Nineveh's population, over 4.2 million people, live in rural areas and livestock is their main source of livelihood.
Shakir Yahya, director of agriculture in Bashiqa (east of Mosul), said the impact of water shortages and climate change has caused livestock farmers in several areas of the Nineveh plain deserts to move to the Duhok Northern Province.
In Bashiqa, about 50 people have taken their livestock to graze in the adjacent Iraqi Kurdistan Region IKR.
Nineveh province has more than 5.27 million heads of livestock in Iraq, out of more than 20.426 million heads of livestock in the country, according to the federal government's Ministry of Agriculture.
The number of camels in Iraq has reached 205,000, with Nineveh province second only to Muthana with 27,131 camels.
"Before the effects of climate change and drought, Nineveh had 100,000 camels in previous years, but now it has been reduced by half," he added. About 1,000 camels have died due to diseases, lack of adequate pasture and consequences of drought.
Duhok province is trying to prevent the migration of livestock from Nineveh to the province, citing lack of meadow and the consequences of climate change.
"Two years ago, we banned the transportation of animals from southern Iraq and Nineveh to Duhok because of poor rainfall, drought and recently hemorrhagic fever," Redir Sadqi Sharif, director of livestock resources in Duhok, told KirkukNow.
There are about 1.5 million sheep and goats and about 120,000 cows in Duhok.
"The checkpoints have tried to prevent animals from being brought to the pastures of Duhok, but there have been cases where they have been allowed, such as those citizens who brought camels and facilitated them, but are not allowed to bring more camels."