"I am thinking of moving to the city and giving up farming because we can no longer rely on it as a source of income to support our families," sadly says Salim Qassim, a farmer from Tal Afar, as they are turning their backs on fertile soil due to lack of government support and climate change.
The farmer's protests and concerns coincide with the threat of declining agricultural production, especially wheat and barley due to the poor rainfall recently and drought.
"Many farmers and residents of villages around Tal Afar have migrated to the cities. If the government does not hurry to support farmers and provide them with the necessities to fight drought, the villages will become deserts and life will disappear," Qassim told KirkukNow.
The people of Tal Afar district, which has a population of more than 524,000, according to the Ministry of Planning for 2019, were severely hurt by crimes committed by ISIS fighters against different religious and ethnic communities.
The center of Tal Afar, located 69 km northwest of Mosul in Ninewa province, has an estimated population of about 220,000, all of whom are Turkmens, while Arabs and Kurds live in districts and villages.
On June 16, 2014, ISIS fighters attacked Tal Afar and local tribes alongside security forces were able to stand in the face of the atrocious attack for 10 days yet lost contact with the army. Simultaneously, ISIS had advanced into several other provinces, including Kirkuk, Salahaddin, Diyala and Anbar.
According to local activists and civil society organizations in Tal Afar, out of 1,300 people kidnapped during the rule of ISIS, including hundreds of women and children, only 48 people have been released, including 23 women and 25 men.
The district was controlled by the Iraqi government in August 2017. About 60% of its people have returned to their homes, mostly Shiite Turkmens, while the rest are still displaced, residing in southern and central Iraqi provinces, especially in Najaf, Karbala and Babylon, in addition to the Kurdistan Region of Iraq KRI and Kirkuk. Some have also migrated abroad, including Turkey.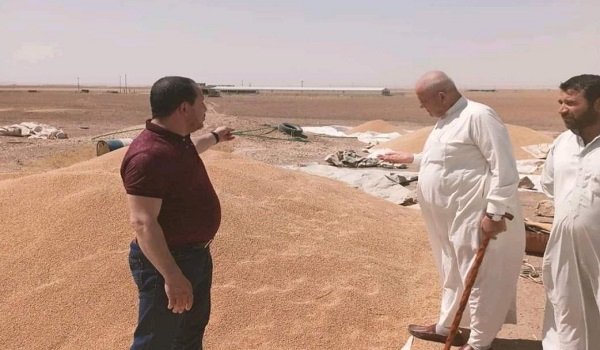 Farmers are turning to other jobs due to the damage caused by the ISIS war, dust, fires and lack of government planning
Waad Abid, another farmer in the district, said they need irrigation, dam construction and continuous support, which he believes has not been done.
"Even after delivering crops, we are not paid so farmers are abandoning their farms."
He also explained to KirkukNow that farmers are turning to other jobs due to the damage caused by the ISIS war, war remnants in agricultural fields, dust, fires and drought, while the government has no plan to address these problems and revive the agricultural sector.
"This will have a negative impact on agriculture, livestock and the country's economy as a whole," Abid said.
Several waves of dust have hit Iraqi provinces in recent months, causing farmers to fear destroying all or most of their crops.
Ali Mohammed Salih, an agricultural engineer, believes drought, lack of rainfall and advanced irrigation systems for agricultural products, especially wheat and barley, have had a major impact on the decline in agricultural production in Tal Afar.
"It's a huge economic resource that is no less important than oil."
The seven state silos in Ninewa, Iraq's largest wheat-producing province, have opened its doors to receive wheat from farmers at 850,000 Iraqi dinars IQD (USD575) per ton since late May, according to the Ministry of Commerce.
"Of course, the level of agricultural production in Tal Afar and its villages has decreased significantly, especially in wheat and barley production in the last two seasons," a source in charge of the silo told KirkukNow on condition of anonymity.
According to the source, the lands that rely on rainwater have not been harvested and only the lands that rely on irrigation were productive.
"Lack of rainfall and negligence in providing advanced irrigation systems are the two main reasons for the decline in production."
The source said this year's production rate is not comparable to previous years, and warned of delays in the completion of the Jazira irrigation project, which provides water for large agricultural projects.
Leaving a farm where you have spent six decades is not easy
The farms of Tal Afar in western Ninewa province are famous in the province, covering an area of ​​at least 500 acres and are watered by the Subashi spring, which is the source of water for the farms.
The farms provide livelihoods for thousands of families and export their products to the district and the entire province, but are currently not given much attention, after being destroyed during the war against the Islamic State of Iraq and the Levant (ISIL) from 2014 to 2017.
In several other parts of Iraq, wheat and barley production has declined compared to previous years.
Earlier, Rabie Yousef Elias, director of agriculture in Ninewa, told Kirkuk Now in February that the Ministry of Agriculture pays special attention to Ninewa, as 60% of Iraq's wheat and barley is produced in the province.
Wheat production in 2021 was 4.2 million tons, down 32% from 6.2 tons in 2020, according to the statistics agency of the Ministry of Planning.
"Leaving a farm where you have spent six decades is not easy. The land is like a mother and separating from it is like death, but staying in its arms is like wrestling with death," Qassim, believes.