Some drivers in Kirkuk are switching from gasoline to liquid petroleum gas LPG due to the low cost of gas compared to gasoline. Despite their continued fears of the consequences, Kirkuk traffic assures the switching is safe and issues guidelines.
The price of one liter of ordinary gasoline in Kirkuk is currently 950 Iraqi dinars IQD (USD0.65), but the price of LPG is 200 dinars per liter.
The difference in gasoline prices has led drivers to resort to using LPG for their vehicles, especially taxi drivers, although they have not tried a similar experience before.
Hiwa Mohammed, a taxi driver from Kirkuk, said, "My friends and I made this decision together... I have switched to LPG for six months because when gasoline became expensive, I could not earn a living by taxi. It was difficult. We had to put more money on the fares, and that wasn't possible."
I have switched to LPG for six months because when gasoline was expensive, it was difficult to make a living by taxi
He said that before current gasoline crisis, it was cheap and easily available thus they had no problems and earned a living easily and citizens did not complain about the price of transportation.
There has been a gasoline crisis in Kirkuk and other provinces of Iraq for more than a year, which has led to the distribution of state-subsidized gasoline in public petrol stations per coupons in several provinces, including Kirkuk, provided that the driver is from the same province.
There are 27 government gas stations that distribute government gasoline at 450 dinars according to coupons, three of which distribute government gasoline at the commercial price of 1,000 dinars per liter without coupons alike the 68 private gas stations in Kirkuk.
Gas stations in the city center are open until 12 pm, three gas stations are open 24 hours and gasoline will be distributed in the districts until 8 pm.
Kirkuk Governorate (its population is estimated at more than 1.7 million people), is supplied daily with 1.5 million liters of gasoline per day.
"Although we were afraid of the gas tank exploding, as some say it is dangerous, but when gasoline became expensive, we had to turn it into gas," Mohammed said.
The Iraqi Interior Ministry has forced taxi drivers to turn their vehicles to LPG since 2019, otherwise their taxi registrations would not be renewed.
"This decision was compulsory, but the high price of gasoline was the main reason," Mohammed added.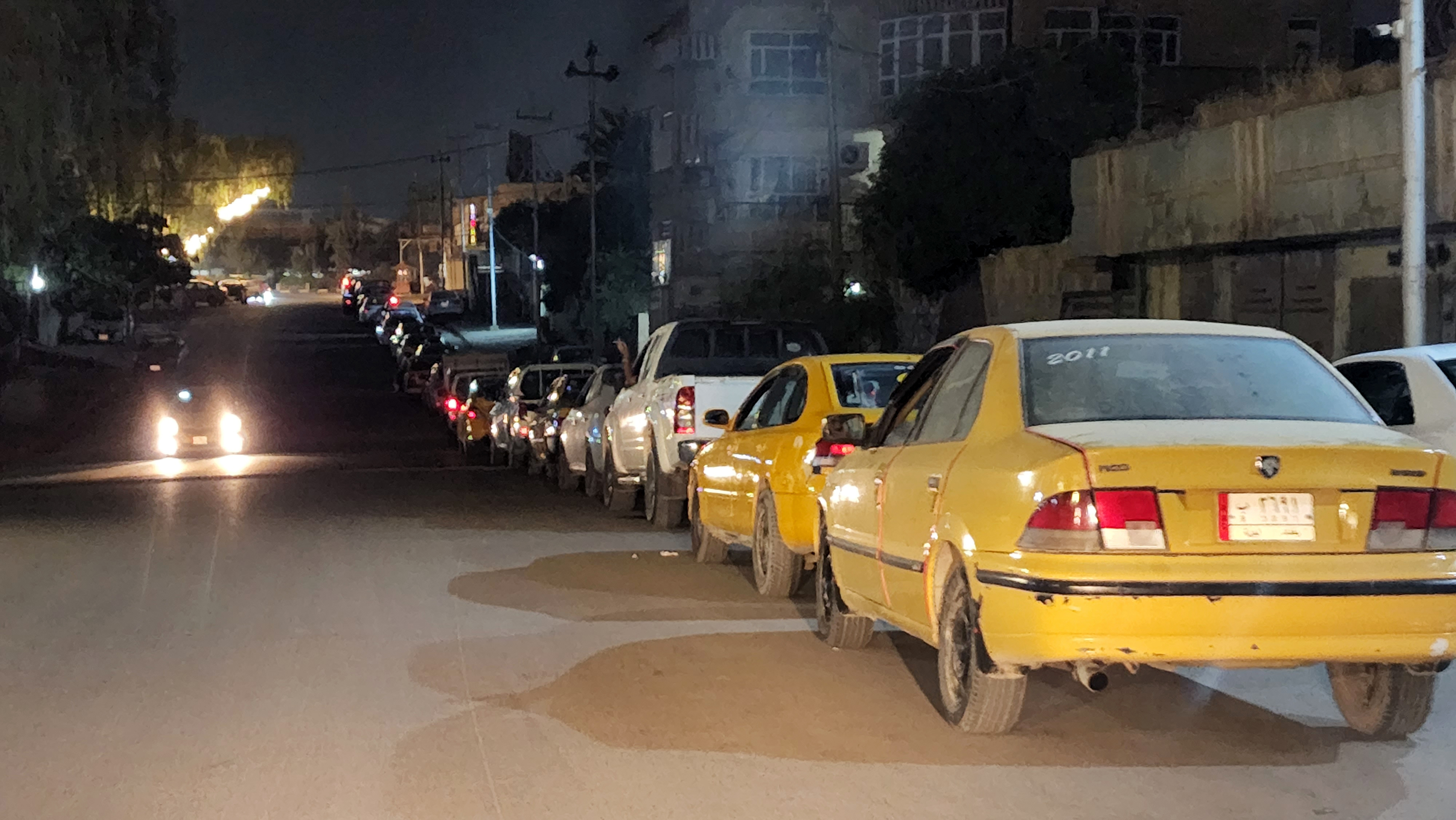 "I don't trust LPG for cars. Whenever gasoline becomes cheaper, I will turn it into gasoline," he said. They say it will explode, so we are afraid. We are used to gasoline and we prefer it."
That is the story of thousands of taxi and private car drivers in Kirkuk.
Converting gasoline to LPG involves installing LPG tanks and other mechanical work done by specialists.
Mohammed Akram, a mechanic who works as a gasoline-to-LPG converter, said only taxi drivers had demands for conversion in the past two years because of the Interior Ministry's decision, but now private car drivers also visit him.
"It depends on the quality of the tank. Here, Italian and Turkish tanks are of very good quality and not dangerous, but Iranian tanks are not good. It depends on the driver's wishes," Mohammed said.
"They usually need to be checked annually to see if there are problems, because every tank shows signs of uselessness after a few years," and affirmed that had not heard of any LPG truck exploding in Kirkuk in recent years.
"The vast majority of those who visit me say LPG is cheaper, so they resort to replacing gasoline tanks with LPG ones," Mohammed added.
We have removed the provision forcing drivers to change the tank from gasoline to LPG
For each private vehicle, the Kirkuk administration gives drivers 50 liters of gasoline every five days, but the quantity is higher for taxis and trucks.
In general, drivers say gas costs twice as much as LPG.
There are no official statistics on the number of vehicles converted to LPG in Kirkuk province, but overall demand for gas has increased in the past six months.
"I turned it into gas three years ago because the Kirkuk traffic refused to register my car, but I was not in any danger," said Hussein Ali, another taxi driver in Kirkuk.
Earlier this year, the Interior Ministry changed the decision for taxi drivers to use gas or gasoline, as Kirkuk traffic spokesman Amer Nariman stressed, but Hussein Ali says, "Gasoline is expensive and I still use gas."
"We have removed the provision forcing drivers to change their tanks from gasoline to LPG and now they are free to renew their registration," Nariman told KirkukNow.
For those drivers who use LPG, Kirkuk traffic generally advises drivers that their vehicles should be new, in order to avoid problems. With the assurance of drivers and citizens that conversion to LPG is not dangerous.
According to KirkukNow, the LPG used for cars is locally produced, available and affordable.
Ali, who turned his car into LPG three years ago, says it was easy to get a free mechanic then, but now it takes months.
Most drivers resort to the Kirkuk Gas Company, which has now opened a special department to work for drivers who convert their vehicles to LPG. More drivers need to head here.
The advantage of turning to the company for drivers is that they have a repair service if the vehicle is found to have problems due to LPG.
"If you don't change your tank at their company, you will be deprived of this service," Ali said.
"At first, and to some extent even now, any passenger who knew the taxi works by LPG would be very afraid and pray for us until we reached our destination."
Yasin Abdullah, 48, a resident of Kirkuk, told the story of his first trip from Kirkuk to Baghdad last October in LPG-powered car. "UP to the moment we reached Baghdad, I felt like I was sitting on TNT explosives."
"The problem is trust. I don't trust this government that produces that gas. This is a hot country and I'm really afraid of it."