The Consul General of the United States of America USA in Erbil Irvin Hicks says the US ambassador to Baghdad will focus on climate change throughout Iraq, have plans and programs.
The US Consul General CG in Erbil said this in response to a question by KirkukNow at a press conference held in Erbil on Wednesday, December 4th, 2023.
"Addressing climate change is one of the priorities of our ambassador in Baghdad. We have started work and programs. USAID has had several programs here," US CG said.
"A US company has recently launched a project to benefit from solar energy. As an alternative to things that affect the environment, this has an impact on low energy consumption."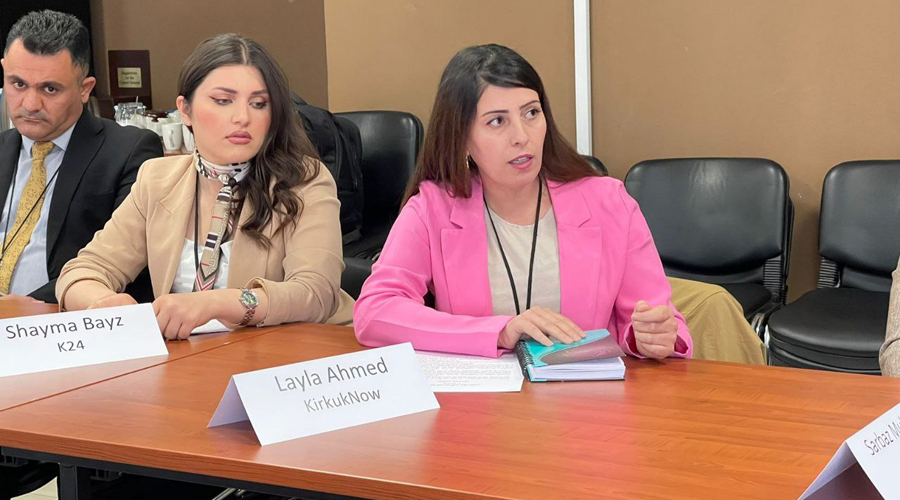 The press conference was dedicated to the consul general's vision and plan for 2023 and their activities during the past year, in which several media outlets were invited, including KirkukNow.
Leila Ahmad, a reporter for KirkukNow, addressed the issue of environment and climate change and stressed that some areas in Iraq are facing danger due to climate change, including those areas where people have been displaced and returned due to the war against the Islamic State of Iraq and Syria ISIS have.
Iraq has been named the fifth-most vulnerable country to climate breakdown, affected by soaring temperatures, insufficient and diminishing rainfall, intensified droughts and water scarcity, frequent sand and dust storms, and flooding, says a report by the United Nations International Organization for Migration IOM (Migration, Environment and Climate Change in Iraq) published in August 2022.
"Compounding this, water policies in neighbouing countries have shrunk vital water sources, while rapid population growth, urbanization, and inefficient water use by the agricultural and industrial sectors is propelling a demand for more water."
Irvin Hicks, US Consul General in Erbil. Video: U. S. Consulate General Erbil
"A US business delegation is planning to visit Iraq in the coming months. The delegation will represent some US universities that have a good reputation for environmental issues, climate change and clean energy," he added.
"Linfield University is currently working with Duhok University on the issue of refugees and the displaced as well as environmental issues. I will visit Baghdad soon to meet with the ambassador to start working on our priorities throughout Iraq," he said.
Former Water Resources Minister, Mahdi Rashid Hamdani, last August said that Iraq is suffering from climate change and the destruction of water resources due to the lack of agreement between them and the countries that source Iraq's rivers.
Regarding the efforts of his ministry, he said that they constantly ask the countries of the Tigris and Euphrates water sources to participate equally in the increase and decrease of water levels, working to adapt to climate change and take necessary measures.